12 Apr 04

PRINCIPLE - the source or origin of
anything; a general truth, a truth so broad and sweeping that many other truths can be considered offshoots of it
---
PRAYER -

I exhort therefore, that, first of all, supplications, prayers,
intercessions, and giving of thanks, be made for all men; for kings, and
for all that are in authority; that we may lead a quiet and peaceable life
in all godliness and honesty. For this is good and acceptable in the sight
of God our Saviour; Who will have all men to be saved, and to come unto
the knowledge of the truth. I Tim 2:1-4

If Christ is not risen, then our preaching is empty and your faith is also empty.
I Cor 15:14
---
ENCOUNTER -

And he called his ten servants, and delivered them ten pounds, and said unto them, Occupy till I come. Luk 19:13

Apr - Voter Registration Month, 971-2053 pager
Apr 15 - Tax Day, Give unto Caesar what is Caesar's
(A person works about six months to pay city, state, county, and federal taxes.)
Apr 19-25 - National Turn Off TV Week and World Book Day
Apr 20 - Tom Vail, author of Grand Canyon, a Different View, will be speaking at Alameda Bible Church located at 220 El Pueblo NW (south of Paseo Del Norte and west of 2nd)
Apr 22-24 - Annual NM Christian Homeschool Convention, 832-0759
Apr 25 - Compassion Sunday, www.compassion.com
Join with Compassion International efforts to help children in poverty
Apr 25 - Abq Interfaith Candidate Forum, La Mesa Presbyterian, 3:00-4:30, 268-3991
Apr 26-27 - Justice for All @ UNM
Apr 30-May 1 - Rio Refresh, A Great Commission Gathering
May 1 - Voter Registration Deadline for Primary Elections
May 1 - Science Teacher Seminar, Best Western Inn on Yale SE near the airport
(contact Joe Renick for more info)
May 6 - National Day of Prayer, State Coordinator Bonnie Miller, 526-7129
May 9 - Mother's Day
May 14-16 - Worldview Weekend Family Reunion
Jun 1 - NM Primary Elections
Jul 1 - Deadline for petitions for General Election issues

Ongoing
Weekends - Portraits in Providence, KFLQ, 91.5 FM
Daily - Focus on the Family Radio Broadcast
1st Thur, 8-9:30am - Rio Grande Pastor's Alliance, 821-1993
---
UNDERSTANDING

- And of the children of Issachar, which were men
that had understanding of the time, to know what Israel ought to do; the heads
of them were two hundred; and all their brethren were at their commandment.
I Chron 12:32
Contents:

Diversity Day at the Abq Academy
Tom Vail Visits Albuquerque
Apr - Voter Registration Month
The Family - Building Block of Society
Definition of Human Life
Pro-Life Training
TV Turn-Off Week and World Book Day
NM Author - Patriots in Petticoats
Friend of the Family
-
Diversity Day at the Abq Academy

diversity: NOUN: 1a. The fact or quality of being diverse; difference. b. A point or respect in which things differ.
truth: NOUN: 1. Conformity to fact or actuality.



Every year, the Abq Academy cancels classes for a day to allow students time to explore their differences (diversity). Many groups set up displays including the Bible Club. This year was no exception and the rain could not dampen their spirits. First on the quad to set up and first in the gym after the administration decided to relocate, the Bible Club hosted an interactive display of Biblical history, archaeology, and handouts. Bill Murdock, representing Trinity Southwest College, brought a model of the Temple, ancient weapons, and other Biblical artifacts. Allowing the students to don white gloves, Bill demonstrated the weapons and let students actually handle the artifacts. The weapons were an especially strong attraction to the male students. Rob Kurz, from Foothills Fellowship, was on hand to answer Bible questions.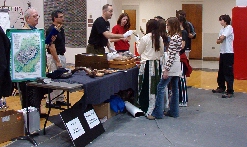 Anna Marquis and Zach Grafe, senior leaders of the Bible Club, spearheaded the display on Diversity Day. The Bible Club display was preceded by two showings of a video produced by the Bible Club. The Bible Club interviewed students on campus asking them who they thought Jesus was. The video was expertly integrated with music and commentary. The challenge at the end of the video was "wouldn't it be worth your while to find out [who Jesus is]?" Students from the Bible Club handed out copies of Jesus With Dirty Feet, an excellent evangelism tool.

As the Supreme Court continues its squeeze on Christianity in the public arena, we see opportunities like this pop up. The table next to the Bible Club was displaying Muslim material. Pilate asked "what is truth" (Jn 18:38). Only by turning to God and His Word can we discover and preserve truth. "God, who made the heavens and earth, the sea and all that is in it; who keeps truth forever." (Ps 146:6) Christianity has endured persecution and has inflicted persecution. As America moves further from her Foundational Principles, we now debate the truth of Christianity in a multicultural environment that declares all religions equal. Or ... at the worst, we expunge God from the public arena and become an Atheist nation. Continue to pray for the Supreme Court as they deliberate Constitutionality of "one nation under God."

Photos by John Martin
-
Tom Vail Visits Albuquerque

Author of controversial book on the Grand Canyon will be speaking at Alameda Bible Church on Tue, Apr 20. Citizen Magazine, May 2004, has an article about the book and the controversy. (You'll have to wait to see it on the internet.)
-
Apr - Voter Registration Month

Approximately 50% of NM citizens are registered to vote. Approximately 50% of those registered actually show up at the polls to vote (or vote absentee). We have a responsibility to select our leaders and only turn our city, county, state, and country over to evil forces if we abrogate that responsibility.

Please make sure your church has voter registration forms available during the month of April. According to Federal Regulations for Non-Profit Organizations, you CAN conduct voter registration drives during Sunday morning or other church activities. For forms and other information, contact principles@integrity.com.

Candidate surveys are out. Thanks to Matt & Tana for their donation to cover postage! Encourage candidates in your district to answer the Principles Community Impact Survey. This will likely be the only conservative candidate survey in NM for the 2004 elections. Tune in next issue for a discussion of questions included in the survey and what you can expect in the voter guide. The Secretary of State has a list of candidates and contact information for the Primary Elections. Hear a presentation on Biblical Principles for Govt at the annual NM Homeschool Convention on Fri, Apr 23.

Want to find out about the judicial candidates? Invite a judicial candidate to speak to a group! A couple conservative candidates who would like speaking opportunities are Paul Barber (291-0004) and Ned Fuller (291-0004). Invite a candidate from your district to your next community event (e.g., neighborhood meeting, organization meeting, church group).

Deadline for vote registration to vote in the June Primaries is May 1st.
-
The Family - Building Block of Society

The family is the building block of society. When marriages and families are healthy, communities thrive; when marriages break down, communities break down. http://www.heritage.org/research/family/issues2004.cfm

The stakes are raised as we continue the struggle with the definition of marriage. Those congregations concerned about losing their tax exempt status if they GET involved, will soon have to make the decision whether they want to lose their tax exempt status if they DON'T get involved. You say: "How could that happen?" The government is notorious for withholding money from programs noncompliant with regulations. If the Supreme Court redefines marriage, it's not a stretch of the imagination to see that the government will revoke a church's 501(c)(3) status if they refuse to conduct marriage ceremonies for same-sex couples.

How severe is this problem? Dr James Dobson writes the strongest letter I have ever seen from Focus on the Family. He writes: "This is an absolutely crucial letter because the institution I created Focus on the Family to preserve -- the family -- is not only under attack as it has never been before: It is on the verge of extinction. Tyrannical judges, rogue public officials and homosexual activists are working tirelessly to redefine the traditional family by extending marriage rights to same-sex couples -- as recent news headlines out of the city of San Francisco, Oregon and Massachusetts make painfully evident. The only way to thwart their efforts, to ensure that the institutions of marriage and family as God ordained them are protected for future generations, is to pass the Federal Marriage Amendment (FMA)." You can add NM to the list!

To locate contact information quickly, please call 1-800-A-FAMILY or visit http://capwiz.com/fof/dbq/officials/. Contacting your legislators is the first step in this battle. Your friends and neighbors must also be convinced of the importance of FMA's passage. You can help educate them by writing a letter to the editor of your local newspaper. We have tried to make this process easier for you, with a Web "wizard" that allows you to assemble a letter by copying and pasting a series of talking points. www.family.org/cforum/extras/a0031121.cfm

Folks, we are at a crux in American history that may not be recoverable. The Supreme Court is redefining Foundational Principles. Just as we needed a Constitutional Amendment following the Civil War, we need Constitutional Amendments today to reestablish these principles: marriage is the union of one man and one woman, human life begins at fertilization, and all men are created equal by their Creator. This summer we will see a Supreme Court decision on the phrase "one nation under God." The Supreme Court decision on abortion has condemned 1,500,000 babies to death every year since 1972. As States continue to wrestle with the issue of same-sex marriage, it won't be long until the Supreme Court issues a decision on the national definition of marriage.
-
Definition of Human Life

The "Life at Conception Act" was introduced by Mr. Inhofe in the US Senate on 10 Mar 2004. Roe vs. Wade apparently left a loophole that legalized abortion until human life is determined or defined. Once human life is defined, then it is protected under the Constitution.

The "Unborn Victims of Violence Act of 2004," signed into law by President Bush, provides a definition of human life before birth. If unborn babies are just a "blob of tissue" then there would be no need to protect them. Science continues to present more and more evidence of human life before birth.
-
Pro-Life Training
.
How effective are you at communicating your pro-life beliefs? The Justice for All exhibit is coming to UNM Apr 26 & 27. This exhibit will cost $4,000 to bring to UNM so donations are needed! Volunteers are also needed for counseling, lodging, meals, and transportation. JFA will train volunteers who will be meeting with students at the exhibit. Training for Life! is 18, & 25 from 5-7pm at Heights Cumberland Presbyterian Church. (Childcare MAY be available.) Contact Lyn Ott at lyn@faweb.org or call 220-4762.
-
TV Turn-Off Week and World Book Day

TV-Turnoff Week 2004 will take place April 19-25. Please join the celebration! Television cuts into family time, harms our children's ability to read and succeed in school, and contributes to unhealthy lifestyles and obesity. Turning off the television gives us a chance to think, read, create, and do. To connect with our families and engage in our communities. To turn off TV and turn on life. Pray more during TV Turn-Off Week!
www.tvturnoff.org/week.htm

UNSESCO has declared 23 April (Shakespeare's birthday) as the annual World Day of the Book or World Book Day. The idea has spread rapidly and successfully over much of the world. It has become a festival of reading, a day to celebrate the pleasures of reading, writing, and books. Read the Bible on 23 Apr!
www.centreforthebook.org.za/projects/wbd.html
-
NM Author - Patriots and Petticoats

NM media carried articles in March promoting a new book written by the author, Shirley Raye Redmond of Los Alamos, NM. The Abq Journal wrote: "In her new book "Patriots in Petticoats," Shirley Raye Redmond of Los Alamos has unearthed for young readers 24 heroic- and many obscure- American women in the American Revolution. These women (and some teenagers) were spies, messengers, printers, seamstresses, poets, soldiers disguised as men." The Los Alamos Monitor wrote: "Redmond came up with the idea for the book when she was getting ready for a trip to visit her sister in North Carolina. She has a habit of researching locations before she visits an area to find interesting things to see and do. The research turned up Martha Bell's story of spying for American troops in order to pass on valuable information, and the story of Kerenhappuch Turner, who at 80 years old went to nurse her son who was wounded in a battle with British troops."

Patriots and Petticoats is available at Christianbook.com and local bookstores.



-
Friends of the Family
is a group of key supporters who invest monthly in family ministry. Their commitment is key to the ongoing effectiveness of Focus on the Family and enables us to extend the ministry to many who cannot afford the resources and services they need. They also enable our radio programs, our efforts to defend family values, and our outreaches to special groups like teens, unwed mothers, and non-Christians. For more information, call 1-800-A-FAMILY.
-
---
RESOURCES


The following organizations are listed for your assistance and to promote the mission of the organizations. There is no intent, nor has there ever been any intent to imply these organizations endorse or support the Principles Newsletter, though it is a nice idea. Any organizations wishing to endorse or support the Principles Newsletter, please contact principles@integrity.com. Anyone finding these organizations helpful, please consider mentioning the Principles Newsletter when contacting them. Thank you.

Principles Newsletters Archive
Roster of NM Govt Officials

LOCAL


Albuquerque Bible College
Ask Jesus Now
CareNet Pregnancy Center of Albuquerque
Christian Assoc of Parent Educators
Christian Summer Camps
Creation Science Fellowship NM
Educate NM
Free Indeed Ministries
Greater Southwest Council BSA
Habitat for Humanity
Hands On Ministries and Education
Hope Christian Schools
IDnet-NM
InOneAccord@comcast.net - Faith Based Political & Social Newsletter
Joy Junction
KFLQ
KNKT
KYNM TV 61
Lightshine Ministries
NM Christian Community Foundation
On Fire or Burned Out
Parenting Teenagers
Principles
Rio Grande Enrichment Studies
Shepherd's Guide
Tijeras Foundation
Trinity Southwest University

NATIONAL

America Bless God
American Christian History Institute

American Heritage Party
American Family Association
American History Pictures
Campaign for Working Families
Center for Reclaiming America
Center for the American Founding
Christian Heritage Mini-Course
Christian History Institute
CitizenLink Action Center
Crown Financial Ministries
Early Church Fathers
Faith Facts
Family Research Council
Focus on the Family
Focus on the Family Pastors Weekly Briefing
Foundation for Biblical Government
Founding Fathers
Frontline Fellowship
Pilgrim Institute
Preserve Liberty
Principle Approach International
Providence Foundation

Religious Freedom Coalition
Renew America
Saints and Heroes
Summit Ministries
TeenPact
Vision America
Wallbuilders

---
Community Impact News is edited by:
Mark Burton, Foothills Fellowship, 294-0016
Pager 971-2053
Many thanks to contributing authors and businesses.
Please forward events/articles/links to

principles@integrity.com.
Current distribution is over 1,000 email addresses throughout NM.
If anyone you know would like to receive this newsletter directly
please have them send an email to principles@integrity.com.
It is also available on the web at www.rges.cc/news.htm and can
be accessed free of charge from any library internet service.
If you are reading this from outside NM, please locate and support
a Family Policy Council in your area.