10 May 04

PRINCIPLE - the source or origin of anything; a general truth, a truth so broad and sweeping that many other truths can be considered offshoots of it
---
PRAYER -

I exhort therefore, that, first of all, supplications, prayers,
intercessions, and giving of thanks, be made for all men; for kings, and
for all that are in authority; that we may lead a quiet and peaceable life
in all godliness and honesty. For this is good and acceptable in the sight
of God our Saviour; Who will have all men to be saved, and to come unto
the knowledge of the truth. I Tim 2:1-4
---
ENCOUNTER -

And he called his ten servants, and delivered them ten pounds, and said unto them, Occupy till I come. Luk 19:13

May 14-15 - Spring Theology Forum, TCC, 828-1205, "America's Providential History"
May 14-16 - Worldview Weekend Family Reunion
May 15 - Early Voting Begins
May 18 - Bible: true or false? Did the stories really happen like the Bible says? Hear Dr Peter Briggs speak at Faith Bible Church (Central & Moon), 7pm, about the factuality of the story of Ai in the book of Joshua.
May 22 - Safe Prom, 7-11pm, free tickets at Bibles Plus or Chronicles
Call Kim at the Light Club for more information, 298-5636
May 29 - Absentee and Early Voting Ends
Jun 1 - NM Primary Elections
Jun 11 - Southwest Women's Festival, guest speaker Joni Eareckson Tada
6:30-9:00 p.m., Kiva Auditorium, Tickets $5 & $10
Jul 1 - Deadline for petitions for General Election issues

Ongoing
Weekends - Portraits in Providence, KFLQ, 91.5 FM
Daily - Focus on the Family Radio Broadcast
1st Thur, 8-9:30am - Rio Grande Pastor's Alliance, 821-1993
---
UNDERSTANDING

- And of the children of Issachar, which were men
that had understanding of the time, to know what Israel ought to do; the heads
of them were two hundred; and all their brethren were at their commandment.
I Chron 12:32
Contents:

Voter Guide for the NM June Primary Elections
Spring Theology Forum
Science Teacher Seminar
Kirtland AFB Response to "Fetal Tissue Vaccines" Letter
Justice for All Exhibit at UNM
Accountability in Education
Christian Heritage Speech Competition Topics
FOF Dedicates the Month of May to Marriage
My "Country" Tis of Thee (POWERFUL lyrics)
Friend of the Family
-
Voter Guide for the NM June Primary Elections

Voter guide is available online at www.rges.cc/vg04p.htm. Please review guidelines for non-profit organizations before distributing any voter guide in local churches. Many voter guides are single-issue or endorsements and are not permitted by 501(c)(3) IRS rules. The Principles Voter Guide is the only multi-issue, conservative voter guide in NM. If you want to know where the candidates stand on significant issues, encourage your friends and family to check out the Principles Voter Guide. If you do not see your district represented in the voter guide or missing candidates, please contact them and ask them to respond to the survey. The Principles Voter Guide includes responses to 24 questions mailed to all state Representative, Senator, and Judicial candidates and also includes additional comments (maximum 100 words allowed per candidate).

The responses and additional comments are very enlightening. Almost all candidates agree that human life begins at fertilization. One candidate even stated that human life begins before fertilization - in the mind of God. Another candidate (mistakenly) returned a NARAL survey that revealed a list of very disturbing questions about the extremes of abortion. To request a copy of the NARAL survey, email principles@integrity.com.
-
Spring Theology Forum

Spring is in the air and so is the Spring Theology Forum sponsored by the Albuquerque Bible College. It will be held at the Tramway Community Church on May 14th and 15th and will feature noted educator John Kinzer. The topic of this exciting seminar will be "America's Providential History: The History of Christianity in the United States." The cost is a mere $10.00 per person or $15.00 for a couple. You can even receive college credit. For more details, call Albuquerque Bible College at 828-1205. Friday May 14 - 7-9 PM, Saturday May 15 9-12 and 1:15-4:15
-
Science Teacher Seminar

The Intelligent Design Network NM conducted a workshop for science teachers on Saturday, May 1st. The workshop went very well. We had around 12 or 13 teachers and three interested scientists. Feedback from the teachers was most useful in fine-tuning the program for our next workshop. A scientist in Oklahoma is developing a teaching module on the Cambrian Explosion which may be available for future workshops. The potential of the workshop concept is enormous and there are discussions going on about how to build the concept into a national effort. Many kudos to Joe Renick for his efforts to organize the workshop!
-
Kirtland AFB Response to "Fetal Tissue Vaccines" Letter

Information indicated the Base was using vaccines manufactured with the tissue of aborted fetuses. For the straight scoop, read the response from Col Cowles, 377th Medical Group Commander, dated 28 Apr 04 (MS Word format).
-
Justice for All Exhibit at UNM

JFA brought the exhibit to UNM for the second time on 26-27 Apr 2004. The University did not provide enough space for the large exhibit but it was adequate to stimulate significant discussion and opposition. There was a protest group with large signs blocking the exhibit for most of Monday and Tuesday. The fundamental question at the exhibit was "is the unborn baby human?" while protesters chanted "protect reproductive freedom." They want freedom without responsibility. Their action to block the exhibit also demonstrated their desire to suppress any information that would convict women they are killing human beings. Trained counselors mingled through the crowds and asked questions. The Daily Lobo ran an article that fairly represented both sides of the issue.



People frequently ask "are the graphic pictures really necessary?" Educators universally acknowledge the value of graphic visuals when used properly. High school students, for example, are routinely shown grisly pictures of the Nazi-Holocaust against the Jews. Images of mutilated bodies stacked like cordwood communicate the horror of the death camps in a way no lecture can. In fact, the producers of Schindler's List donated a copy of the film to every high school in America, in spite of its graphic content. At the same time, movie theaters provided free screenings (during school hours) to over 2,000,000 students in 40 states. Faculty acknowledged the disturbing images, but argued that students would not understand the holocaust unless they saw it. The reason the Nazi holocaust was successful was because it was hidden.

When a conservative congressman protested exposing young children to Schindler's List, 40 of his colleagues in the House of Representatives signed a letter expressing outrage at his comments. "While it's true that Schindler's List depicts nudity and graphic violence," the letter states, "we believe that these scenes are critical to the film's accurate portrayal of the dehumanizing horrors of the Holocaust. As noted television critic Howard Rosenberg wrote in the Los Angeles Times, 'Although almost too horrid to watch, these segments are absolutely essential.'" The same can be said about teaching the controversial histories of the Viet Nam War and the Civil Rights movement. Teaching the abortion holocaust with any less academic rigor is intellectually dishonest.
-
Accountability in Education

The Albuquerque Interfaith conducted an education forum titled Towards a New Way of Doing Public Business - A Public Action with City, County, and APS Officials regarding Planning for Growth and Budgets on Sunday, Apr 25th. Attended by over 200 citizens, the forum featured testimony by a dozen concerned individuals and organizations. Public officials responded with a commitment to coordinate facility development. The intent was to prevent tax money being spent on new schools solely to attract developers while existing schools suffer with underfunded programs. Facility gross square footage has been increasing since 1992 while total students have been decreasing.

Voter registration was emphasized. Each person received three voter registration forms. The forum was opened and closed with prayer and the Pledge of Allegiance recited in English and Spanish. I think this is at least one group that will refuse to remove "one nation under God" if the Supreme Court decides the phrase is unconstitutional. The forum was well organized and started and ended on time.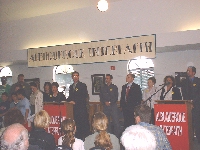 For years, a culture of pitting one group against another has pervaded local politics. Public employees from one union are pitted against public employees of another union. Residents of the east side of the river are pitted against residents of the west side. Developers, aided by some elected officials, pit the city, the county, and APS against one another for their private gain. This pattern of pitting not only stains our educational system and infrastructure, it exhausts taxpayers. It is time for a new way of doing public business where public employees and their families are valued and the public spending of one jurisdiction adds value to the public spending of another. Albuquerque Interfaith is composed of about 30 member organizations and agencies.
-
Christian Heritage Speech Competition Topics

Topics for the 14th annual Christian Heritage Speech Competition on Sat, Nov 6th, at Sandia Prep in Albuquerque can be viewed at www.rges.cc/chsc.htm. Hundreds of $$$ in awards are presented to top four winners in each grade level. Please pass the word to interested students and parents. Registration limited to the first 150.
-
The Family - Building Block of Society

The nationally syndicated Focus on the Family radio broadcast will dedicate the month of May to the preservation of marriage. Programming designed to honor and protect the sanctity of traditional marriage will include timeless classics and exciting new topics. For the complete schedule, visit www.family.org/married/fomcalendar.cfm.

New effort begins in NM to protect traditional marriage. Stay tuned for more at www.protectamerica.us! The deadline is Jul 1st for petitions to put sexual orientation on the Nov ballot and overturn SB28 and HB277. If you haven't realized it yet, you will soon. For those pushing the homosexual agenda, tolerance is a one-way street - their way. Where is their tolerance targeted? The church. Just north of us in Canada, the parliament passed Bill C-250, making it a crime for anyone to publicly criticize homosexuality. Known as the "chill bill," the law makes it illegal to advocate traditional Christian opposition to homosexual behavior. The quoting of Scripture will soon be hate speech.
-
My "Country" Tis of Thee

You can tell a culture by its music.
At number 32, moving up the charts from 38 last week:
"If Nobody Believed in You," by Joe Nichols

I watched him take the two strike call:
He hadn't tried to swing at all.
I guess he'd had all that he could take,
He walked away, for goodness sake.
His father's voice was loud an' mean:
"You won't amount to anything."

That little boy quit tryin',
He just walked away.
There were teardrops on his face.
Tell me, how would you feel?
You'd probably give up too,
If nobody believed in you.

That old man said: "One more try,
"I know I'm not too old to drive.
"I promise, son, I'll do my best,
"This time, I'm gonna pass the test."
"Give me the keys, Dad, an' get in."
His father never drove again.

That old man quit tryin',
He just turned away.
An' there were teardrops on his face.
Tell me, how would you feel?
You'd probably give up too,
If nobody believed in you.

We take His name out of schools.
The lawyers say it breaks the rules.
Pledge of allegiance can't be read,
An' under God, should not be said.
I wonder how much He will take.
I just pray it's not too late.

What if God quit tryin',
He just turned away?
There were teardrops on his face?
Tell me, how would you feel?
You'd probably give up too,
If nobody believed in you.

[After note - Rio Rancho student joins with ACLU to challenge Pledge of Allegiance.]
-
Friends of the Family
is a group of key supporters who invest monthly in family ministry. Their commitment is key to the ongoing effectiveness of Focus on the Family and enables us to extend the ministry to many who cannot afford the resources and services they need. They also enable our radio programs, our efforts to defend family values, and our outreaches to special groups like teens, unwed mothers, and non-Christians. For more information, call 1-800-A-FAMILY.

You can send tax-deductible donations to Foothills Fellowship for direct support of the Principles Community Impact Ministry in NM.
-
---
RESOURCES


The following organizations are listed for your assistance and to promote the mission of the organizations. There is no intent, nor has there ever been any intent to imply these organizations endorse or support the Principles Newsletter, though it is a nice idea. Any organizations wishing to endorse or support the Principles Newsletter, please contact principles@integrity.com. Anyone finding these organizations helpful, please consider mentioning the Principles Newsletter when contacting them. Thank you.

Principles Newsletters Archive
Roster of NM Govt Officials

LOCAL


Albuquerque Bible College
Ask Jesus Now
CareNet Pregnancy Center of Albuquerque
Christian Assoc of Parent Educators
Christian Summer Camps
Creation Science Fellowship NM
Educate NM
Foothills Fellowship
Free Indeed Ministries
Greater Southwest Council BSA
Habitat for Humanity
Hands On Ministries and Education
Hope Christian Schools
IDnet-NM
InOneAccord@comcast.net - Faith Based Political & Social Newsletter
Joy Junction
KFLQ
KNKT
KYNM TV 61
Lightshine Ministries
NM Christian Community Foundation
Parenting Teenagers
Principles
Rio Grande Enrichment Studies
Shepherd's Guide
Tijeras Foundation
Trinity Southwest University

NATIONAL
America 21
America Bless God
American Christian History Institute
American Heritage Party
American Family Association
American History Pictures
Campaign for Working Families
Center for Reclaiming America
Center for the American Founding
Christian Heritage Mini-Course
Christian Heritage Series by Nancy Rue
Christian History Institute
CitizenLink Action Center
Crown Financial Ministries
Early Church Fathers
Faith Facts
Family Research Council
Focus on the Family
Focus on the Family Pastors Weekly Briefing
Foundation for Biblical Government
Founding Fathers
Frontline Fellowship
Pilgrim Institute
Preserve Liberty
Principle Approach International
Providence Foundation
Religious Freedom Coalition
Renew America
Saints and Heroes
Summit Ministries
TeenPact
Vision America
Vote Smart
Wallbuilders

---
Community Impact News is edited by:
Mark Burton, Foothills Fellowship, 294-0016
Pager 971-2053
Many thanks to contributing authors and businesses.
Please forward events/articles/links to

principles@integrity.com.
Current distribution is over 1,000 email addresses throughout NM.
If anyone you know would like to receive this newsletter directly
please have them send an email to principles@integrity.com.
It is also available on the web at www.rges.cc/news.htm and can
be accessed free of charge from any library internet service.
If you are reading this from outside NM, please locate and support
a Family Policy Council in your area.