Fearfully & Wonderfully Made

3 Jan 05

Principles CINews

PRINCIPLE - the source or origin of anything; a general truth, a truth so broad and sweeping that many other truths can be considered offshoots of it
For You have possessed my inward parts; You have covered me in my mother's womb. I will praise You; for I am fearfully and wonderfully made; Your works are marvelous and my soul knows it very well. Ps 139:13-14
---
PRAYER -

I exhort therefore, that, first of all, supplications, prayers,
intercessions, and giving of thanks, be made for all men; for kings, and
for all that are in authority; that we may lead a quiet and peaceable life
in all godliness and honesty. For this is good and acceptable in the sight
of God our Saviour; Who will have all men to be saved, and to come unto
the knowledge of the truth. I Tim 2:1-4
---
ENCOUNTER -

And he called his ten servants, and delivered them ten pounds, and said unto them, Occupy till I come. Luk 19:13

Jan 3 -

ABC Winter Quarter begins, call 828-1205 for registration
Jan 7 - Unlocking the Mystery of Life, KNME Chan 5, 9p
Jan 11-14 - 5th Annual International Symposium on Archaeology & the Bible; Ancient Ingenuity, the Art of Living in Bible Times, 217-1330, www.abqsymposium.org
Jan 17 - Martin Luther King Day
Jan 18 - NM 60-day Legislative Session begins
Jan 18 - CSF monthly meeting, Faith Bible Church, 9600 Central SE, Speech by Joanna Gardner on "The dangers of compromising Genesis Chapters 1-11." (8th grade winner of the 2004 Christian Heritage Speech Competition)
Jan 22 - Luminaria Memorial for the 5,000+ babies aborted in NM every year, 821-9101
Jan 23 - Sanctity of Human Life Sunday, www.beavoice.net
Jan 28 - Legislative Breakfast, 924-2311
Jan 31-Feb 2 - Hispanic Evangelism Conf, Hoffmantown, 247-4781
Feb 7-11 - TeenPact NM, Wendy Thomson, 525-8689, WWGMDLWJ@aol.com
Mar 11-20 - Bible Lands Expedition 2005, 332-4253
Apr 23 - Annual RTL State Convention, 881-4563
May 15 - Global Day of Prayer
Jul 29-30 - Scopes Trial Reenactment, Kimo Theater, 294-7876

Ongoing
Myra Green Country Gospel Concerts in NM, 757-8406, seagreen@cybermesa.com
Weekends - Portraits in Providence, KFLQ FM 91.5
Daily - Focus on the Family Radio Broadcast
1st Wed, 7:30-9:00am - Rio Grande Pastor's Alliance, Bill Butler, 294-0016
(Twister Grill, 2912 Juan Tabo NE, South of Candelaria)
Fridays, 9:30-11:00 am - "Praise the Lord" program airs "live" on KNAT TV 23 in Abq. Guest spots available for pastors to share the Good News! We'd love to have more local pastors preach, teach, encourage, and edify the Body of Christ." Call Cindy @ 836-6585.
Fridays, 12:00 - prayer meeting for Christian ministries. Trinity College, Eubank & Constitution, 872-2741
Fridays, 6:30p - Special Lectures (free) at Trinity SW Univ
2/4/05 Hindrances to the Bibl. Counseling Process Dr. Encinias-Library
2/11/05 Christian Science Dr. Strunk-Library
2/18/05 The Bible - History or Religion? Dr. Collins-Library
2/25/05 Created for Relationship Prof. Elliott-Library
3/4/05 Where Jesus Walked Prof. Sparks-Library
3/11/05 Marks of a Biblical Church Dr. Dollahite-Library
---
UNDERSTANDING

- And of the children of Issachar, which were men
that had understanding of the time, to know what Israel ought to do; the heads
of them were two hundred; and all their brethren were at their commandment.
I Chron 12:32
Contents:

Special Event - Unlocking the Mystery of Life
Biblical Archaeology
Interview with New Mexican Serving in Iraq
Iraqi Constitution
Sanctity of Human Life Sunday
Movie Review - The Forgotten
National Year in Review (In One Accord & Vision America)
Some NM Highlights of 2004 (Principles CIM)
Christmas Party at the Abq Youth Detention Ctr
NM Legislative Session 2005
In the News
Petitions
Friends of the Family
-
Special Event - Unlocking the Mystery of Life

After 16 months of gentle pushing, KNME will be airing an excellent documentary called "Unlocking the Mystery of Life." It is a strong case for Intelligent Design! It will be shown on PBS Channel 5 (KNME) Friday Jan 7, 2005 at 9:00PM. Please try to get the word out to as many people in the science community as you can think of. You'll never think the same again in regard to the great Intelligent Design/Evolution debate after seeing this documentary. Last week's Journal (6-10 Dec) was saying that New Mexico was #1 in the nation for the number of scientists and engineers. This documentary is a powerful evolution wall breaker! The opposition fought us back on this once already. [Funny how fearful they are of a documentary.]
Best Wishes, Phil Robinson

ICR review. AIG review. ARN review. FOF review. What is ID? by Mark Hartwig, PhD.

Unlocking the Mystery of Life is the story of contemporary scientists who are advancing a powerful, but controversial, idea-the theory of "intelligent design." It is a theory based upon compelling biochemical evidence. The story begins with a landmark meeting of design theorists assembled by Professor Phillip Johnson in Pajaro Dunes California in 1993. Unlocking the Mystery of Life then follows the development of the intelligent design movement through insightful interviews with Paul Nelson, Stephen Meyer, Dean Kenyon, Michael Behe, William Dembski, Jonathan Wells, Jed Macosko and Scott Minnich.

The interviews are brought to life with state-of-the-art computer animation and microscopic photography of living systems. The viewer is transported into the interior of the living cell to explore systems and machines that bear the unmistakable hallmarks of design. Amazing animation footage of the bacterial flagellum provides the viewer with a detailed tour of "the most efficient machine in the universe."

Within the nucleus explore the wonder of DNA, a threadlike molecule that stores instructions to build the essential components of every living organism. It is part of a biological information processing system more complex and more powerful than any computer network. Unlocking the Mystery of Life documents how scientists are abandoning naturalistic explanations for the origin of genetic information and looking to theories of design for new answers.

Unlocking the Mystery of Life is a remarkable documentary examining the scientific case for intelligent design - an idea with the power to revolutionize our understanding of life ... and to unlock the mystery of its origin. The theory of evolution tells people there is no Creator. The existence and function of DNA tells us there is a Creator and allows people to ask "Who is the Creator?"

For the unseen things of Him from the creation of the world are clearly seen, being realized by the things that are made, even His eternal power and Godhead, for them to be without excuse. Rom 1:20
-
Biblical Archaeology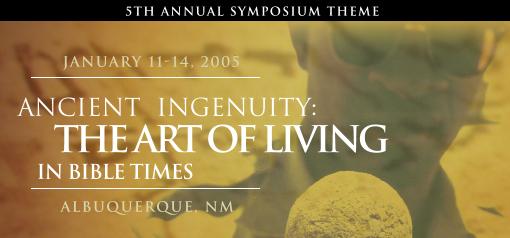 For those who like archaeology and take the Bible seriously as an historical document, the Symposium 2005, sponsored by TSU and The Museum of Archaeology & Biblical History, is the event on Planet Earth. There just isn't anything else like it. And the 2005 version will be no exception. It will be held at the Sheraton Hotel Uptown in Albuquerque.

The theme for Symposium 2005 is "Ancient Ingenuity: The Art of Living in Bible Times." As has become the reputation of the Symposium, the speakers for January 2005 are all world-class scholars and experts in their respective fields. Featured speakers include David Maltsberger, Charles Aling, Carol Meyers, Neal Bierling, William Fulco, Mark Chavalas, Charles Krahmalkov, Eric Meyers, James Tabor and John Moore.

The Symposium 2005 is a feast of information and material for Bible teachers and scholars alike. And the fellowship is great. People come from all over the world to enjoy the subject of biblical archaeology at its finest. One of the many benefits of Symposium events is being able to interact directly with participating scholars. You can ask those questions you've always wanted to ask, and, at least, get a scholarly opinion!

Dr. Steven Collins
Executive Curator, The Museum of Archaeology & Biblical History

Early Christians had a faith based on evidence and so do we. It is NOT an empty faith or misplaced hope. Did Jesus really rise from the dead or was it a fabricated story? We have eye witness testimony in the Bible but is it true? Biblical archaeology supports Biblical narratives and proves the accuracy and authority of God's Word. As with fossils and evolution, archaeological evidence can be misinterpreted within the context of an incorrect worldview. Historic science is only as good as its assumptions. Here are some interesting links on Biblical archaeology:
Archaeology and Biblical History
Archaeology and the Bible Symposium
Biblical Archaeology Society
BIBARCH™ - The Premier Biblical Archaeology Website
Foundation for Biblical Archaeology
Dig the Bible
-
Interview with New Mexican Serving in Iraq



Lt Col Jim Lasché (center in photo) has been serving in Iraq for seven months and was able to visit his family and friends in Albuquerque for a couple weeks in Dec. On Dec 21, he answered a few questions about the situation in Iraq. This interview is intended to make us more aware of what's happening in Iraq and to facilitate prayer for Lt Col Lasché, American soldiers, and the Iraqi people. Lt Col Lasché returned to Iraq on Dec 24 to serve out his commitment in the US Army Reserves. He discussed ten questions - the first five are included here.

1. Briefly describe your position in Iraq and what you do. I work for the Corps of Engineers responsible for the delivery of equipment to the Iraqi police and border patrol forces. I run a warehouse, a trucking company, and protection forces to secure the convoys. Support personnel are contracted by American and Iraqi companies. Everyone I work with speaks excellent English, the language of commerce around the world.

2. Do you think the Iraqis are investing in their freedom (e.g., lives lost compared to American losses)? I see the Iraqis making far greater sacrifices. This is an amazing fact that hasn't made it through the media. I review daily security updates and it always astounds me the number of Iraqi policemen and border patrol that die and are critically injured - a much greater ratio than American casualties. I am impressed by the tremendous courage of the Iraqi police, border patrol, government, armed forces, and those coordinating with the coalition to help stand up the Iraqi government and rebuild their country. The lives of their families have been threatened. Some continue their work and move their families away. The analogy I have developed to the situation in Iraq is one of organized crime in Chicago back in the thirties. It takes a small number of organized crime in proportion to the general populace to create terror. I think we will prevail in the end. The Iraqi people are resilient and the coalition is steadfast.

3. How have you seen the Lord working in your life while in Iraq (e.g., the job, safety, relationships)? For my first several months, we were poorly manned. I was busy from dawn to night. Sometimes I was challenged to get enough sleep and my quiet time suffered. But my walk with the Lord was maintained because I really depended on Him. One in preserving my life when I went on occasional convoys and travel in the red zone to inspect and coordinate. I also had to make sure there was adequate protection for personnel. Balancing speed and safety is often a dilemma. I have to make life and death decisions every day. God has answered prayers for wisdom, safety, and accomplishing the mission. I have heard the whistle of mortar rounds and have ducked for shelter. I have seen the explosions when the rounds hit. Insurgents establish ambushes on the roads for the convoys. The Lord has protected me through all this. I carry a nine mm pistol and an M-16 rifle but have not had to fire either weapon.

4. Do you personally think America has a legitimate reason for being in Iraq? The very first speech by President Bush to the UN settled the matter. After that there was a lot of misinformation. The UN established a cease fire after Iraq was pushed out of Kuwait in 1990s. One of the agreements was for Sadaam Hussein to hand over his weapons of mass destruction. He had previously used them on the Iranians and the Kurds. Hussein refused and the UN set up weapons inspections. Iraq subsequently obfuscated the weapons inspection process for about ten years and violated the cease fire agreement. President Bush exhorted the UN to enforce the cease fire agreement if the UN is not to become irrelevant in world affairs. Adding a stable democracy to a region threatening our national interests is an added benefit of American intervention. Iran is doing nuclear research now and acquiring delivery systems (questionable for energy sources in an oil producing country). This is an unstable region of the world. If Iraq becomes a democracy and a stable government, I think we'll have a very favorable impact on our national security.

5. Have you read any of the Iraq Constitution? Can you comment on any of it? Do you think Islam is a hinderance to a constitutional government? I haven't looked at it at all. Maybe I should but I just find myself overwhelmed with my current job from waking up to going to bed.



Jim Lasché in interesting photo of a "no picture" scene. Permission was given for this photograph but what is the subject matter that would cause the Iraqis to post a "no picture" sign?

[To be continued in the next newsletter.]
-
Iraqi Constitution

The Iraqi Constitution is a fascinating document in that it so closely resembles the US Constitution and is an incredible opportunity to examine the foundational principles for good government. The Iraqi Constitution will be rewritten by a group of leaders elected at the end of Jan 05. There are 62 articles. Article 61 says "If the referendum rejects the draft permanent constitution, the National Assembly shall be dissolved. Elections for a new National Assembly shall be held no later than 15 December 2005. The new National Assembly and new Iraqi Transitional Government shall then assume office no later than 31 December 2005, and shall continue to operate under this Law, except that the final deadlines for preparing a new draft may be changed to make it possible to draft a permanent constitution within a period not to exceed one year. The new National Assembly shall be entrusted with writing another draft permanent constitution." If the National Assembly does not complete writing the draft permanent constitution by 15 August 2005 and does not request extension of the deadline [1 Aug 2005], the provisions above shall apply. There is significant pressure for a successful constitution.

The process of writing the US Constitution was no smooth road either. The Constitutional Convention, meeting in Philadelphia to amend the Articles of Confederation, first rebelled against its own orders, and then invited the country to rebel against its own government. The first act was hazardous enough - it took all of James Madison's ingenuity to defend it in Federalist #40. But the second move was even riskier. It asked the Continental Congress to surrender its role as superintendent of the amending process under the Articles. It asked the state legislatures to turn authority over to the ratifying conventions newly elected for one purpose, to adopt or reject an entirely new form of government. And it did this with a proviso - that only nine states would be needed to form the union.

Just as during driver's training parents take a close look at their own driving habits, now we can look at our own Constitution as we design one for a new country. America was founded on Biblical principles. Is Iraq founded on Islam principles? Principles CINews will review excerpts from the Iraqi Constitution that highlight the principles behind the document. The Iraqi Constitution is very close to the US Constitution with some interesting differences.

CHAPTER ONE - FUNDAMENTAL PRINCIPLES
Article 4. The system of government in Iraq shall be republican, federal, democratic, and pluralistic, and powers shall be shared between the federal government and the regional governments, governorates, municipalities, and local administrations. [Our government is a democratic-republic but tending toward atheism, not pluralism. Atheism is the religion of choice in the public school system - supported by the theory of evolution. No reference to the Creator like the US Declaration of Independence. What does the Koran say about Creation?] How pluralism will play out in the Iraqi government will be interesting.] The federal system shall be based upon geographic and historical realities and the separation of powers, and not upon origin, race, ethnicity, nationality, or confession. [Sexual orientation is not included - probably not part of Islam. While the US Constitution has not changed, the executive branch and legislatures at every level have been adding sexual orientation and gender identity to the list of nondiscrimination prohibitions. The NM legislature passed a law in 2004 for businesses with more than 15 employees that prohibits discrimination on the basis of sexual orientation or gender identity.]

Article 7. A) Islam is the official religion of the State and is to be considered a source of legislation. No law that contradicts the universally agreed tenets of Islam, the principles of democracy, or the rights cited in Chapter Two of this Law may be enacted during the transitional period. This Law respects the Islamic identity of the majority of the Iraqi people and guarantees the full religious rights of all individuals to freedom of religious belief and practice. [Possible conflict between state religion and freedom of religious belief. Article in Free Republic discusses the difficulty of overlaying democracy on the Islam culture. US First Amend says Congress shall make no law respecting an establishment of religion or prohibiting the free exercise thereof. Unfortunately, the Courts have gone a step further and exclude the Bible in many cases.]

Read the entire Iraqi Constitution at:
http://www.iraqcoalition.org/government/TAL.html

[To be continued in the next newsletter.]
-
Sanctity of Human Life Sunday

Plan something for your church service on Jan 23. Resources are available at www.beavoice.net and FOF bioethics. The average public is especially receptive to pro-life arguments following the Peterson trial and Scott Peterson's conviction of a DOUBLE murder. Remember the name Conner (the name given to the unborn baby). This puts a name on the life of an unborn baby and removes any anonimity that typically accompanies a pro-life/pro-choice discussion. The annual luminaria memorial to be held in Abq on Sat, Jan 22 provides the same heart-wrenching awareness of the 5,000+ babies killed in NM every year. Five names are written on each of 1,000 luminaria bags, placed along the cemetery road, and lit for the evening service. Plan to attend this year if you possibly can. The service is non-denominational. Call Charlene at 345-4423 for details.

In a gruesome story from MO, a woman murders another woman for her unborn baby. How can a baby not be a baby in an abortion, yet be a baby in murder? This is an INCREDIBLE double standard in the American legal system!

Our Declaration of Independence declares life as the first, fundamental right of freedom - "Life, Liberty, and the Pursuit of Happiness." These rights come ONLY from God as the DoI says "that all men are created equal, that they are endowed by their Creator with certain unalienable Rights." We must not forget or neglect the foundational principles of our nation. The Iraqi Constitution (closely modeled after the US Constitution - see article below) includes a pro-life clause (Article 12) "Everyone has the right to life, liberty, and the security of his person. No one may be deprived of his life or liberty, except in accordance with legal procedures."

The list of pro-life organizations is growing (across denominational lines). Principles CIM encourages you to support one or more of these. "Yea, they sacrificed their sons and their daughters to demons, and shed innocent blood, even the blood of their sons and of their daughters, whom they sacrificed to the idols of Caanan; and the land was defiled with blood." Psa 106:37-38
FOF Pro-Life List
NM Right to Life
Anglican Catholics for Life
Baptists for Life
Life Decisions (list of endorsing organizations)
Lutherans for Life
People for Life
Presbyterians for Life
-
Movie Review - The Forgotten

Focus on the Family movie review says: "The last five minutes made me want to pump my fist in the air in excitement. Not only does this movie exalt a mother who clings ferociously to the memory of her lost son, but it ends with an amazing pro-life twist. Whether or not the filmmakers intended to make a moral statement, the fact remains that evil is defeated and countless lives are saved by the fact that Telly believes that her son's life began at conception. Great ending. The rest is best forgotten."
-
National Year in Review

Anita Bruce has done an excellent job of keeping us up to date on national issues affecting our culture in 2004. She reviews a considerable amount of material and condenses it into a two-page summary. Anita has a unique insight into trends and significant issues and wrote a "Year in Review" from her perspective. In this "information age," none of us has the time or resources to digest all that's happening around us yet there is still the need to know about the really important issues. You can subscribe to the In One Accord Newsletter by emailing InOneAccord@comcast.net. Vision America also published an excellent "Year in Review" in their Patriot Pastor Alert. "And of the children of Issachar, which were men that had understanding of the time, to know what Israel ought to do; the heads of them were two hundred; and all their brethren were at their commandment." I Chron 12:32

There sure were a lot of social and political battles fought with wins and losses on both sides. The year began with San Francisco leading the way for gay marriages, issuing over 3,400 marriage licenses to same sex couples, New Mexico and New York were soon to follow in the domino effect. Lawyers on both sides of the issue fought hard in court. The Federal Marriage Amendment died in the Senate. However, at the end of the year eleven states that had the issue of gay marriage on their ballot voted to amend their state's constitution and define marriage as between a man and a woman.

In the movie industry, there were also wins and losses on both sides. The movie 'The Passion of the Christ' surprised many by braking records in the box office. It was an eye opener for Hollywood that Christians are also consumers and will direct their money to entertainment that values them. There are always losses in the movie industry but this year had a few particular lows. 'Birth' starring Nicole Kidman depicted pedophilic scenes with the 10 year old actor who plays her reincarnated husband in the movie. Just as disturbing is the movie 'Kinsey' glorifying Alfred Kinsey the zoologist who unscientifically did studies on human sexuality with the determination to overturn moral laws and social conventions. There was also the movie 'Saved' starring Macaulay Culkin which depicts Christians as hypocrites and Jesus freaks. All in all, Hollywood continues its coarse on a slippery slope down the path of immorality and Christian intolerance.

In the pro-life vs. pro-abortion realm there were also hits and misses. The Unborn Victims of Violence Act was passed! Also, the governor of Mississippi signed six pro-life bills into law. On the other hand, the ban on partial-birth abortion was challenged in three states and was determined to be unconstitutional. The final determination will be by the Supreme Court. An Informed Consent bill was vetoed by the governor of Arizona, in South Dakota, a bill which would have outlawed abortion there died by one vote, and Idaho reversed a law that required a minor to get parental consent before having an abortion. Pro-lifers were refused a permit to peacefully protest at an abortion rally in D.C. The National Education Association (NEA), who did nothing with the March for Life, publicly and financially supported the pro-abortion rally in D.C. The same NEA that is leaning toward "introducing gay historical figures to kids, having pro-homosexual education starting as early as kindergarten, and treating people's religious views as bigotry and hatred." This year the Catholic Church took a great stand declaring that pro-abortion politicians should be refused communion.

In 2004, we saw such an increase in homosexuality that infiltrated not only television and movies but politics and the churches as well. MTV has produced an all gay network called LOGO which will launch in February and include gay weddings, reality shows, etc. Disney held its annual "Gay Days at Disney" celebrations and went one step further in 2004 by filling up Disney World on Father's Day weekend with LGBT (lesbian, gay, bisexual and transgender) families for a celebration. Dolly Parton's theme park Dollywood was also added to the list of parks where annual 'Gay Days' are held. Bills were introduced that would make preaching what the Bible says about homosexuality a 'hate crime.' Every denomination dealt with homosexuality in 2004. The Presbyterian Church promoted homosexual clergy and a reverend performed ceremonies for gay couples. The Lutheran Church appointed openly gay pastors. The Episcopal Church consecrated a homosexual bishop. The Anglican Church promoted an openly gay priest and Anglican Archbishop Desmond Tutu supports the inclusion of homosexuals in the church. The United Methodist Church acquitted a gay minister who married her partner and let her keep her ministry.

As for the topic of indecency, who can forget the Super Bowl fiasco in which Janet Jackson exposed herself? Luckily a bill on indecency was passed that increased the fines by the FCC to $275,000 per violation. What effect did this have? Well, Howard Stern, whose companies like Infinity have paid $1.7 million in fines for him, was dropped by Clear Channel Communication. He became so angered by the restrictions on his speech that he moved his vulgar show from the public airways to Sirius Satellite Radio. Goodbye. Children's video games have become so indecent that they have ratings like movies. For instance, Playboy: The Mansion has an "M" rating (Mature) which is equivalent to an R-rating for movies. Parents, if you see an "AO" rating throw it away!

The ACLU had a busy year in 2004. They were in court fighting the ban on partial-birth abortion, and in many states fighting to remove the Ten Commandments from the courts and public places. They were also fighting in cities to ban the display of nativities during Christmas. They attacked the Boy Scouts because 'their beliefs are discriminatory and at odds with tolerance and inclusion.' The ACLU got the city of Redlands, CA to remove a cross from its city's official seal. Then they went after the L.A. County seal to remove its cross. Another cross they went to court to have removed is an eight-foot steel pipe cross in the Mohave National Preserve built in 1934 by WWI veterans as a war memorial. Prayers in public meetings and school functions were also on their hit list. In South Carolina, prayers in public meeting with references to Jesus were declared unconstitutional by a federal appeals court. They weren't always on the attack though. They defended the rights of children to go nude. In July, the state of Virginia passed a law that would deny a license to hotels and camps that are nudist if they refused to permit parents or guardians to be present. Adult supervision of nude children, and that's a problem? For the ACLU it is and I'm sure pedophiles are cheering them on.

The year sure did end in a political bang with a huge turnout of voters in every state. This time Christians didn't just stay out of the battle. They were involved and it made a great difference. President George W. Bush was re-elected! We didn't have the recounts and lawsuits to delay a decision like many had anticipated. Kudos to the pastors who boldly stirred up their congregants to be informed and active and to the Catholic Church who really took the lead in voting values!

Unfortunately, the year 2004 ended on a disastrous note. The earthquake in the Indian Ocean that caused tsunamis devastated the island of Sumatra, and also caused many deaths in Thailand, India, islands of Malaysia, Jakarta, Indonesia, Philippines, Sri Lanka, etc. The death toll continues to rise and is on its way of reaching 150,000. Most of the victims were woman and children. Please continue to pray for the relief workers and survivors, and come against disease. Also, because CBN's Operation Blessing already had existing operations in many of these places they were the first on hand and in some places are the only relief effort on hand with food, water, and medicine but they desperately need financial aid. Trucks full of dead bodies are stalled in the roads because there's no gasoline. To send money that will help with supplies, medicine, and aid you can call (800) 952-5377.

May the year 2005 be the year to revive,
Anita Bruce, InOneAccord@comcast.net
-
Some NM highlights of 2004

Taken individually, our accomplishments may seem insignificant. However, collectively they give a picture of what God is doing in NM. There are many ministries doing great things in NM. If you know of a local ministry that was a special blessing in 2004, tell us about it. Give God the glory for what He has done in NM during 2004! This has been the first full year for Principles Community Impact Ministry. Thanks to all for your support, encouragement, and participation in the effort to renew Biblical principles in NM. Special thanks goes to the leadership at Foothills Fellowship for guiding and supporting this ministry. Thanks also to Rio Grande Enrichment Studies (RGES) for sharing their website for the newsletter archives. 2004 was a busy and exciting year. Look and pray for great things in 2005!

Jan - The 30-day legis session saw the passage of HB625, eliminating food tax, and the passage of HB277, a convoluted bill implementing sexual orientation and gender identity nondiscrimination for businesses with more than 15 employees. Foothills Fellowship started a Bible Study titled Christians in Civil Govt. I attended the annual Baptist Convention legislative breakfast in Santa Fe with Gilda Bueno from Ask Jesus Now. Gilda was a staunch supporter of Principles CIM in 2004 and we will sorely miss her and her husband Rudy as they relocate to Houston. Gilda started a prayer group for local ministries at Trinity SW Univ on Fridays. Baptist leaders urged attendees to pray for their legislators and challenged Christian legislators to live out their faith. Anita Bruce began her ministry In One Accord - A faith based political & social newsletter summarizing national issues and their impact on our culture.
Feb - 377 MG at Kirtland AFB responded to a letter from Principles CIM on the use of human cells for their vaccines. KKIM hosted Principles CIM on Marvin Capehart's radio program. Attended the Parenting Teenagers Conference (Resolving Conflict With Your Teen) here in Abq where we heard some practical Biblical wisdom from local speakers Evonne Harden (Heading Conflict Off at the Pass), Mike Potter (Reigning in the Rebellious Teen), and Bill & Joyce Butler (Dealing with a Prodigal). We miss the Potters in their move to OH.
Mar - Developed and coordinated candidate surveys for the primary election. It was a challenge to balance length with relevant content but the result was very effective. A special survey for judicial candidates provided some insight on voting for NM judges. Thanks to CAPE for their input on homeschool issues. Donors provided postage for a couple hundred surveys and Foothills provided admin resources.
Apr - Promoted nonpartisan voter registration at churches throughout NM. RGES sponsored a table at the annual CAPE Convention held at Calvary of Abq. Shared the table with In One Accord Ministry. Principles CIM gave a workshop on Biblical Principles for Govt at the CAPE Convention. Was a blessing to help with a visit from Justice for All at the UNM campus - controversial yet rewarding in the amount of fruitful interaction with college students. I think of Arnold's phrase "I'll be back" when I think of JFA. Education is a key area in the debate over social issues. Diversity Day at the Abq Academy promoted a Biblical Archaeology table and a fantastic video from the Bible club on campus. Tom Vail, author of controversial book on the Grand Canyon, visited Abq for a lecture at a CSF meeting. National Park book stores were so concerned it might be "mistaken" for science, they tried to ban the book.
May - Published the Primary Voter Guide on the RGES and Foothills websites. The National Day of Prayer was a highlight for the nation that our government can promote this day of giving thanks to God (see Presidential Proclamation).
Jun - We all mourned the loss of Ronald Reagan (1911-2004). Evaluated results of the Primary Election. Most interesting race in the Primary was for PRC. See article on the PRC by Ward Camp in Principles CINews. David Barton from Wallbuilders visited Abq!
Jul - Visited Dayton TN with Jerry Coryell and Kent Powderly to check out the annual Scopes Trial drama. Jerry is bringing the drama to Abq this year!
Aug - Contacted candidates who didn't respond to the Primary candidate surveys and filled in the gaps. Added info from vote-smart.com that had very similar survey questions. David Bernd, PhD, provided GREAT assistance in his work on judicial candidate surveys. National Neighborhood Night Out was a success and enabled neighbors to get to know each other. A double murder in my neighborhood drove home the importance of getting to know the neighbors better. A man just shot his wife's mother and father in his own home.
Sep - Promoted voter registration in churches throughout NM. Some talk shows said there were about the same percentage of Christians voting. But the overall number was greater meaning more Christians voted than in previous years. Every vote counted in this election. Students were faithful to pray on See You at the Pole (SYATP) and I didn't hear about any legal challenges in NM this year. KFLQ hosted Principles CIM on Dan Rosecrans' radio show. RGES sponsored a fantastic Biblical Principles conference that included a talk by NM Supreme Court candidate Ned Fuller. IDNet sponsored a outstanding conference at UNM and is growing in influence in the community (see Unlocking the Mystery article above). Walk for Life sponsored by CareNet was an excellent way to promote the value human life while helping young women who have made the right choice (for life) but the wrong choice (for sex outside of marriage).
Oct - Published the General Voter Guide on the RGES and Foothills websites, distributed 2,000 copies (with Christian Coalition National Guides) to local churches, and mailed over 500 copies to churches in NM. Again, thanks to donors, Foothills, and Rio Grande Enrichment Studies for providing the necessary resources. SPECIAL THANKS to USA Printing for 2500 copies of a lengthy voter guide!
Nov -The General Election was a great relief and a powerful reminder that the debate over social issues MUST continue. The country was almost evenly divided on critical issues affecting human life, traditional marriage, sexual purity, and primary & secondary education. The annual Christian Heritage Speech Competition was THE highlight of the year for Principles CIM. Six volunteers (Linda Shadid, Donna Bracken, Diane Lee, Kim Arnold, Mark & Jan Burton), 50 judges, and nine sponsors pulled together yet another fantastic event evaluating about 240 speeches and presenting awards to about 30 students. Contact principles@integrity.com if you would like to sponsor a topic for 2005. The recently formed Abstinence Education Coalition put on their first conference with ChangeMakers - a critical breakthrough on barriers to communication in community regarding abstinence education. We face formidable barriers in the NM DOH under the Richardson administration. DOH receives about $500K a year for abstinence education in NM. CareNet hosted their annual Purity Ball which is a delightful way for fathers to spend some quality time with their daughters and reinforce the message of purity for marriage. Being sexually faithful BEFORE marriage is a powerful motivater to remain faithful IN marriage.
Dec - YDDC Christmas Party was a real blessing (see article below). Began an investigation on the public obscenity displayed by the business at 3122 Central SE. It appears the City considers "mere nudity" an acceptable defense for this public obscenity violation. Attended a hearing in Santa Fe on the pre-K program - a new push for state controlled education of four year olds at the cost of $9M. Christians promote the REAL meaning of Christmas - put the Christ back in Christmas, Yahoo! News Story.
Misc - Continued participation with Interfaith Hospitality Network - a network of churches hosting homeless families. Treasurer for the Abstinence Education Coalition. 22 Newsletters in 2004!

As you can see, there were many individuals and organizations that came together with the help of God to make a powerful impact on NM in 2004. Then there was all the behind-the-scenes spiritual warfare that we didn't see! Praise God!!
-
Christmas Party at the Abq Youth Detention Ctr



What started out as the annual holiday party turned into a full blown CHRISTMAS party at the Abq Youth Detention Ctr thanks to Ann Edenfield and the Wings Ministry. The center allowed Wings to call it a Christmas party and Ann included a participatory drama of the birth of Jesus. Residents of the Center dressed up as characters of the Bible such as Mary, Joseph, angels, wise men, shepherds, and even sheep. Some families of the residents attended and overall a couple hundred people participated in the Christmas party. There was time for crafts and talking with the residents - a bright spot in a dark place. A highlight of the party included a professional photograph of the family together at Christmas time (a rarity for most of the families present). There were tearful hugs and goodbyes as the party concluded. Wings did a party in the morning and one in the afternoon for two different groups of residents.

Some comments about the party were:
"I really needed to see my son and my goal for the week was to make sure I had money and a ride to get here."
"This is very nice way of bringing family together especially at this time."
"I haven't seen my brother in a long time."
"I don't get to see my family too often."
"I got to see my brother and I haven't seen him in 4 months."

Please pray especially for the residents who did not have visiting family members and who lack the support of a Christian family. If you would like to help with Wings, contact Ann at 291-6412 or email AnnEdenfield@WingsMinistry.org.
-
NM Legislative Session 2005

Look for an interesting 60-day session beginning Jan 18, 2005.
Adopt a Legislator - Find your State Representative and Senator at http://legis.state.nm.us/lcs/legislatorsearch.asp. Pray for them before, during, and after the 2005 Legislative Session (starts Jan 18). Contact them and find out their prayer needs.
Baptist NM - Legis Breakfast Jan 28 and legis training Jan 27. The purpose of the meal and program is to remind state leaders that Baptists across the state appreciate them, are supporting them in prayer and care about moral issues facing the state. New Mexico's governor and lieutenant governor also are invited to attend, as are other elected members of the state executive branch and judicial leaders in Santa Fe.
RTL - Unborn victims act and parental notification. The Peterson case has provided unique opportunities to discuss the humanity of the unborn.
Marriage Initiatives - Legislative Breakfast (Mike McManus invited)
Think NM - Three objectives: 1) establishing a Strategic River Reserve to protect and restore New Mexico's rivers and protect us from lawsuits by Texas for compact under-deliveries and by environmentalists for violations of the Endangered Species Act; 2) voluntary pre-k to be provided by both public AND accredited private programs; and 3) re-directing money from public school administration to the classroom where the children are learning.
Abstinence - Defeat opposition from "safe sex" and homosexual advocates trying to shut down abstinence education in NM.
Lutheran Office of Governmental Ministry - Advocacy Agenda.
NMCC - Increase affordable housing in NM.
-
In the News

The Faith and Values Coalition will organize in 50 states and pursue three goals:
(1) passage of the Federal Marriage Amendment banning homosexual marriage,
(2) confirmation of pro-life strict constructionist judges to the US Supreme Court and federal bench, and
(3) the election of another socially fiscally and politically conservative president in 2008 along with other state and national candidates.

House report a political attack, abstinence supporters say. The executive branch and pro-family organizations have strongly defended sexual abstinence education in the face of a recent Democratic congressional report charging that many such federally funded programs teach erroneous information. "These issues have been raised before and discredited," said Alma Golden, deputy assistant secretary for population affairs in the Department of Health and Human Services, in a written statement. "Unfortunately what they continue to do for purely political reasons is to take issues and information out of context to try and discredit abstinence education, which is a disservice to our children." NM receives about $500K a year for abstinence education. There has been increased hostility toward abstinence education during the Richardson administration. Find out if your local school(s) support or oppose abstinence education and why. Contact the Abstinence Education Coalition NM at 869-2911 for additional information.
-
Petitions

Eliminate no-fault divorce
Stop National ID Database
Ten Commandments in Public Places
Prayer in Public Schools
-
Friends of the Family
is a group of key supporters who invest monthly in family ministry. Their commitment is key to the ongoing effectiveness of Focus on the Family and enables us to extend the ministry to many who cannot afford the resources and services they need. They also enable our radio programs, our efforts to defend family values, and our outreaches to special groups like teens, unwed mothers, and non-Christians. For more information, call 1-800-A-FAMILY.

You can send tax-deductible donations to Foothills Fellowship for direct support of the Principles Community Impact Ministry in NM. A specific goal of $10,000 is targeted for a full time lobbyist for the 2005 60-day NM Legislative Session. Several states passed state constitutional amendments to protect traditional marriage since the marriage amendment did not pass the US Senate or the US House. This will not happen in NM without prayer and a strong pro-family presence to push it through.
-
---
RESOURCES


The following organizations are listed for your assistance and to promote the mission of the organizations. There is no intent, nor has there ever been any intent to imply these organizations endorse or support the Principles Newsletter, though it is a nice idea. Any organizations wishing to endorse or support the Principles Newsletter, please contact principles@integrity.com. Anyone finding these organizations helpful, please consider mentioning the Principles Newsletter when contacting them. Thank you.

Principles Newsletters Archive
Roster of NM Govt Officials

LOCAL


Adopt a Life
Albuquerque Bible College
Albuquerque Partnership (Education)
Albuquerque Rescue Mission
Ask Jesus Now
CareNet Pregnancy Center of Albuquerque
Christian Assoc of Parent Educators
Christian Community Foundation
Christian Summer Camps
Creation Science Fellowship NM
Educate NM
Foothills Fellowship
Free Indeed Ministries - proclaims healing for those who struggle with sexual brokenness, through the cross and healing power of our Lord and Savior, Jesus Christ.
Greater Southwest Council BSA
Griffin Art Collections
Habitat for Humanity
Hands On Ministries and Education
Hope Christian Schools
IDnet-NM
InOneAccord@comcast.net - Faith Based Political & Social Newsletter
InterVarsity Christian Fellowship NM
Joy Junction
KFLQ
KNAT TV 23
KNKT
KYNM TV 61
Legacy Church
Lightshine Ministries
Lutheran Office of Governmental Ministry NM
NM Alliance for Legal Reform
Parenting Teenagers
Portraits of American Girlhood
Principles
Protect America
Road Runner Food Bank NM
Rio Grande Enrichment Studies
Shepherd's Guide
Tijeras Foundation
Trinity Southwest University
Wings Ministry to families of prisoners (additional support needed)

NATIONAL
A Century of Lawmaking
America 21
America Bless God
American Center for Law & Justice - excellent section on patriotism & religion
American Christian History Institute
American Heritage Party
American Family Association
American History Pictures
Americans of Faith
American Values
Basileia - Strengthen the Biblical Worldview of believers to apply Biblical Principles to every area of thought and life in every area of society.
Campaign for Working Families
Center for Reclaiming America
Center for the American Founding
Christian Heritage Mini-Course
Christian Heritage Series by Nancy Rue
Christian History Institute
CitizenLink Action Center
Constitution Party
Crown Financial Ministries
Early Church Fathers
End Time Issues
Faith and Values Coalition
Faith Facts
Family Research Council
Focus on the Family
Focus on the Family Battle for Marriage
Focus on the Family ivotevalues.com
Focus on the Family Pastors Weekly Briefing
Foundation for American Christian Education
Foundation for Biblical Government
Founding Fathers
Frontline Fellowship
Judicial Watch
Justice for All
Love Won Out
Nehemiah Institute - Worldview training for all the World, Psalm 50:12
Pilgrim Institute
Preserve Liberty
Principle Approach International
Providence Foundation
Religious Freedom Coalition
Renew America
Saints and Heroes
Summit Ministries
TeenPact
Vision America
Vote.com - Vote on public issues and other topics.
Vote Smart
We Vote Values
Wallbuilders
Worldview Academy
---
Community Impact News is edited by:
Mark Burton,

Foothills Fellowship, 294-0016, Pager 971-2053
Many thanks to contributing authors and businesses.
Please forward events/articles/links to principles@integrity.com.
Current distribution is about 1500 email addresses throughout NM.
If anyone you know would like to receive this newsletter directly
please have them send an email to principles@integrity.com.
It is also available on the web at www.rges.cc/news.htm and can
be accessed free of charge from any library internet service.
If you are reading this from outside NM, please locate and support
a Family Policy Council in your area.