National Day of Prayer, May 5. Also listed as "Holocaust Remembrance Day" on some calendars. "Never doubt that a small group of thoughtful, committed citizens can change the world. Indeed, it's the only thing that ever has." Margaret Mead
---
PRAYER -

I exhort therefore, that, first of all, supplications, prayers,
intercessions, and giving of thanks, be made for all men; for kings, and
for all that are in authority; that we may lead a quiet and peaceable life
in all godliness and honesty. For this is good and acceptable in the sight
of God our Saviour; Who will have all men to be saved, and to come unto
the knowledge of the truth. I Tim 2:1-4
---
ENCOUNTER -

And he called his ten servants, and delivered them ten pounds, and said unto them, Occupy till I come. Luk 19:13
Community Calendar

Apr 30, May 1, 6:30p - William Shakespeare's The Merchant of Venice by The Merely Players Acting Troupe at The Foothills (Candelaria & Tramway), $4 (11 and under free)
May 1 - Wings for LIFE Workshop, 291-6412
May 5 - National Day of Prayer
May 15 - Global Day of Prayer
Jun 1 - Teen Abstinence Essay Scholarship Contest for NM students ages 13-18.

$1000, $500, $250 scholarships for 1st, 2nd, and 3rd place winners. See website

www.makethebestchoice.org for more information.
---
UNDERSTANDING

- And of the children of Issachar, which were men
that had understanding of the time, to know what Israel ought to do; the heads
of them were two hundred; and all their brethren were at their commandment.
I Chron 12:32
Contents:

Why Some People Hate Christianity
End Judicial Filibuster
Wings for LIFE Workshop
Will to Live vs Living Will
CAPE Convention 2005
Earth Day 2005
Readers Talk Back
Petitions
Friends of the Family including Tsunami Status
Resources
-
Why Some People Hate Christianity

Had a bad experience with Christians? Some people have to the point of rejecting what they think is Christianity. What can you do about it? Separate the sin from the sinner. The wages of sin is death, but the gift of God is eternal life through Jesus Christ our Lord (Rom 6:23). [God] will have all men to be saved and to come to the knowledge of the truth (1Ti 2:4). Speak the truth in love (Eph 4:15).

It's always helpful to know why a thing is before you try to fix it. Why are there so many in media, education, art, and the judiciary who hate Christianity with a passion? Why would anyone produce a program like Last Temptation of Christ that mocks Christianity to the core? Why are there people who sue a four year old for handing out pencils with "Jesus Y the Little Children" in school? Why would an "artist" put a cross in urine and call it "art?" Why are there judges that rule against the Ten Commandments, crosses in public places, prayer in school, the Pledge of Allegiance, or the teaching of Creation? Why are there people who open fire in the middle of a church service? Anne Heche's autobiography gives some insight into the hatred for Christianity and the lure of homosexuality.

Anne Heche, lesbian lover of Ellen Degeneres, was sexually abused as a baby by her "Christian" father. In her book Call Me Crazy, 2001, she says "[Dad] was the choir director of a church he had started with another man who was the preacher. He was blond-haired and blue-eyed and fair-skinned and certainly looked the part of a man who would tell the truth. He was dynamic and charming and everyone liked him. He played piano on Sundays. He loved choir directing. We were members of the country club and of the church. We were a happy, white, Christian, blond-haired, blue-eyed family." In a conversation with her mother, Anne confesses "Dad sexually abused me, Mom." She also blames her mother. "You didn't save me! I was young, I couldn't speak!" The rest of her confession is too graphic for this newsletter. She believes her sister, Cynthia, died of similar abuse.

Every chapter of Heche's book is saturated with hated references to Christianity and her abuse as a child. Heche associates Christianity with abuse (incest and pedophelia) and chose homosexuality to help her forget. Anne says "In order to get the insanity completely out, you must equal it in your life so that you can get rid of it and move on." Her homosexual behavior was chosen and learned.

Followers of Fred Phelps of Westboro Baptist Church demonstrated at UNM and in Santa Fe April 23-25 with their message of hate. UNM police stood on the median to keep the groups separate. Unbelievers experience more abuse and alienation from Christianity. Satan will do anything in his power to separate man from God. Westboro Baptist Church is a controversial (and allegedly racist) cult based in Topeka KS, headed by minister Fred Phelps. The church "meeting place" (as Phelps refers to it) is located in the basement of his home; the church itself is a compound made up of Phelps' home and nine other homes, which are occupied by nine of his thirteen children and their spouses. Integrity Online internet service currently blocks the Westboro Baptist Church website. ("This site contains inappropriate content (discrimination) and images. By unblocking this site we [would] compromise our filtering criteria.")

Next time you meet an atheist, agnostic, or homosexual - treat with compassion. You are likely looking at a severely abused person who doesn't know the Biblical Jesus. Practice the principles of 1 Cor 13.
-
End Judicial Filibuster

Contact Senator Bingaman and Senator Domenici. Ask them to stop the judicial filibuster that prevents Senators from voting on judicial nominees. Why should pro-family citizens care about the appointment of judges? Filibusters are normally used only to block pieces of legislation. There is no precedent in American history for a judicial nominee who had the clear support of a majority of senators to be blocked from even receiving a vote, by a minority of senators, through the filibuster. The filibuster rule can be rescinded but some Senators are afraid they might want to use the filibuster in the future. A minority of Senators are using the filibuster to censor candidates of faith. If it's wrong now, it's wrong in the future. Let Senators do their elected job - VOTE!

See US DOJ for list of judicial nominees. Unfortunately, there is at least one nominee that has violated Biblical principles in his decisions. Mr. Pryor is remembered for five defining events in his public career: (1) According to a sworn affidavit by former Alabama Governor Fob James, Bill Pryor was appointed to Attorney General on a promise to the Governor that he would stand against unlawful decisions of judges on the Ten Commandments issue - a promise he later broke. (2) Pryor not only reversed his position on non-compliance to unlawful federal orders, he even went so far as Attorney General to nullify a state law against partial birth abortion, based on his view of the "rule of law." (3) As Attorney General, he vigorously prosecuted and persecuted Chief Justice Roy Moore, asking him three times on the witness stand if the great Christian jurist would "continue to acknowledge God" even if a court told him not to do so. (To watch the chilling interchange between Attorney General William Pryor and Chief Justice Moore, click here.) Upon hearing his answer, Mr. Pryor declared the Chief Justice "unrepentant" and successfully demanded his expulsion from office, thus making Mr. Pryor the first man in American history to oust a sitting Chief Justice for his Christian faith. (4) As a nominee before the United States Senate Judiciary Committee, Mr. Pryor argued, in effect, that though he personally opposed abortion, he would enforce the rights of mothers to vivisect their children because the most important issue was not life, the law of God, nor the Constitution, but instead the decision of judges, which he terms "the rule of law." During his hearings and throughout the debate for his position for federal judge, Bill Pryor bent over backwards to repeatedly assure liberal Senators that his personal opposition to abortion and his belief that killing babies is unconstitutional would have no bearing on his recognized duty to follow the "rule of law" by defending abortion rights as defined by the Supreme Court. (5) As acting federal judge with the 11th Circuit Court of Appeals, he voted against the life of Terri Schiavo, by refusing to consider new evidence in the case. More on judicial nominations and "rule of law" at Vision Forum.

A bit of flavor on Janice Rogers Brown, nominee for Dist of Columbia Circuit Court of Appeals, from the 27 April 2005 "Federalist Patriot": "These are perilous times for people of faith, not in the sense that we are going to lose our lives, but in the sense that it will cost you something if you are a person of faith who stands up for what you believe in and say those things out loud." --California Supreme Court Justice Janice Rogers Brown. From Supreme Court Justice Antonin Scalia on using International Law as precedent: "[International law] doesn't show what the Constitution originally meant, and it doesn't show what is fundamentally important to Americans today. It shows what's fundamentally important to somebody else today." --Supreme Court Justice Antonin Scalia.

From Pat Fort:
Please consider sending this as a sample to your e-mail list. They may also call Senator Bingaman at 202-224-5521 or Senator Domenici at 202-224-6621.

Dear Senator __________,
The U.S. Constitution requires that the Senate vote by simple majority to approve a president's judicial nominees. Please vote to end the judicial filibuster. Thank you.

(name)
(city), NM
-
Wings for LIFE Workshop

Barry Rumbles, a dear friend and a psychologist and former psychologist for the NM Corrections Dept., will lead a workshop on "Anger" at our May 1st Wings for LIFE. If you've ever thought you'd like to attend Wings for LIFE, this will be a good one to go to! Please let your family and friends know as well.

Sunday - May 1st
All Wings for L.I.F.E. - Life-skills for Inmate Families & Education/Mentoring
Catholic Center, Sandia Room - 6:30-8:00 PM
4000 St. Josephs Place, NW (By St. Pius High School)
I-40 W to N Coors, Right on St. Joseph's Place to Catholic Center
Contact: Ann Edenfield, 291-6412 or Heddy Long, 831-8117, 321-4086
-
Will to Live vs Living Will

The Will to Live protects your own life and the lives of your family members when you cannot speak for yourselves. It names someone you trust to safeguard your life when you cannot speak for yourself as your "health care agent." It names backup agents if your first choice can't serve. It describes the treatment you do and do not want to guide your health care agent and physicians. It protects your family and health care agent from pressure from health care providers and others by allowing them to prove what you really did want. It relieves the agony of decision making for them by making your wishes clear. The Will to Live is a legal document specific to your state that you can sign which: names someone to make health care decisions for you (your "heath care agent") if you develop a condition that makes it impossible for you to speak for yourself (become "incompetent"), and makes clear (in the form of written instructions to your health care agent) what medical treatment you would want if you can no longer speak for yourself.

Download the Will to Live for NM (pdf).

www.nrlc.org/euthanasia/willtolive/index.html
-
CAPE Convention 2005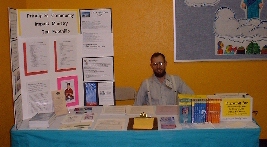 Principles Community Impact Ministry had a presence at the CAPE convention again this year. Highlights included a worldview workshop by Bill Jack, a workshop by Pat Fort on "Influencing the Culture Through Social and Government Policy," and a book drawing for the Santa Fe Years (local Christian heritage historical fiction by Nancy Rue).



Bill Jack contrasted an eight-point Biblical and atheist worldview. He interviewed a variety of atheists in their natural habitats challenging their worldviews - animal rights activists, nudist proponents, and a new age group promoting the return of Christ in the form of Maitreya (a frightening commentary on apocalyptic prophesy, Mark 13:21).




Pat Fort gave an excellent presentation on the legislative process and an update on the legislation debated in the 2005 session. Pat was instrumental in providing timely information needed to influence legislators during committee hearings and floor votes. He said the domestic partners bill failed by only one vote that would have equated traditional marriage with civil unions. He is working on a summary of family friendly policies for 2006.



Book drawing. Currently out of print, the Christian Heritage Series by Nancy Rue is only available from limited sources. The author has expressed an interest in republishing the series since Focus on the Family will not. There were two winners of the six-book set of Santa Fe Years. - Renee Martin and Mark & Carol Coffing.

Mark Burton will be teaching a Worldviews Elective for high school students on Tuesdays beginning in Aug 2005. For more information, contact principles@integrity.com.
-
Earth Day 2005
"
April 22, 2005 is the 35th Anniversary of Earth Day. Earth Day, which began in 1970, is now celebrated by millions of people worldwide. This year is its 35th anniversary, and around the world, hundreds of thousands of nongovernmental organizations, governments, teachers, and faith-based groups, among others, are making plans to declare that they are part of something extraordinary: a worldwide movement to protect our planet, our children, and our future. This year, Earth Day Network's theme is 'Protect Our Children and Our Future.' Despite the extraordinary and often false obstacles that we face in our efforts to protect our natural resources and our biodiversity, few will dare argue with the moral imperative to protect our children from harm. As a consequence of that imperative, we call on governments, corporations, faith-based organizations, and all people in our troubled world to work with us to ensure that children everywhere are healthy, educated, and free from oppression. This Earth Day, hundreds of major events will take place around the world, in communities large and small, in classrooms, in parks and on beaches, in places of worship. From Kiev to Beijing, from India to Romania, from Africa to the Americas, we will demonstrate our diversity and our resilience. We look forward to your participation and working with you to make this Earth Day the beginning of a global effort to protect our children's future."
earthday.org/resources/2005materials/default.aspx

Environmental Stewardship in the Judeo-Christian Tradition: Jewish, Catholic, and Protestant Wisdom on the Environment edited by Michael B. Barkey.
The Catholic Church and Stewardship of Creation
A Biblical Perspective on Environmental Stewardship
Cornwall Declaration & Notable Signers
Interfaith Council for Environmental Stewardship
A Comprehensive Torah-Based Approach to the Environment
A balance between irresponsibility and panic. "Similarly, there are two extremes of human behavior, neither of which serves well. One extreme occurs when we totally ignore the future while living hedonistically and indulgently for the present. Parents feel pangs of pain while watching a growing child live self-indulgently with no thought for the future. The alternative extreme is that we can suffer through a present of complete self-deprivation in order to save for the future. Many of us have known people who survived the Great Depression of the twentieth century. These persons frequently lived the rest of their lives in depression-like circumstances, even though they possessed financial reserves that made the self-deprivation unnecessary. The challenge facing the person wishing to live the good life is to find a more balanced approach. One of Judaism's great gifts to its adherents is a 'manufacturer's guide' to how the human person can best attain this middle path. The Torah provides a roadmap to achieving balance-being neither a miser nor a spendthrift, being neither a libertine nor an ascetic. The middle path enables one to live each day to its maximum joy potential while also conserving resources for an unknown future."

"A proper and balanced perspective on caring for the Earth and its inhabitants comes not from merely promoting 'environmental awareness' but is only found within the Biblical framework, i.e. recognizing humans were created by a loving God and given the responsibility to rule over, subdue, and care for the rest of the Creation, once 'very good,' but now suffering from the curse of sin. We need to beware of the tendency to worship and serve created things, as can happen with some 'Earth Day' activities. Instead we should give glory and honor to the Creator and return to the authority of His Word." For additional articles on Christians and conservation, see Q&A: Environmentalism.
www.answersingenesis.org/docs2001/0421earthday.asp

John Muir - a model of Christian faith? Some claim John Muir, founder of The Sierra Club, worships the same God that we do. The Sierra Club website has this article on John Muir's religion. The article mentions that John Muir accepted evolution as a theistic evolutionist, espoused a wilderness salvation as opposed to a heavenly salvation, and rejected orthodoxy for a "Gospel of Nature." The article concludes with, "That Muir was thus reborn, not from a life of sin to the God of the Bible, but from a life of repression to revelation of the God of Nature, has left us the rich and inspiring legacy of his wilderness gospel."
-
Readers Talk Back

I just read your newsletter. It sure sounded harsh. Are you a Christian publication or are you a republican/conservative publication? I work for the state at YDDC as a teacher. The secretary of CYFD is a believer and has made great strides for children in the state. The Governor is a Catholic and is considered in good standing with his church. Why do you call the governor "King"? This is not the blessing the bible mandates. The NT exhorts to prayer - this was conspicuously absent in the discussion of the legislative session. Also, only one side of the legislation is presented, no reason is offered why the bills were introduced in the first place. Without a balanced presentation, I feel like someone is trying to indoctrinate me rather than informing me of the issues and offering a Christian world view. You have obviously labored to great extant to produce your newsletter. Thank you for those labors.

Blessings
gary archibeck, worship pastor, new life city

Thank you for your comments. I will try to sound less harsh in the future. I do not consider "Christian publication" and "republican/conservative publication" mutually exclusive. I wish to promote Biblical principles for government in all political parties. One of the goals of Principles Community Impact Ministry is to provide a forum for debate. Our unity is in Jesus Christ. Application of Biblical principles is a difficult process for passionate issues but one that should not be ignored. I constantly solicit help in clarifying the issues surrounding a bill and do the best I can with the resources God has given me. I hope to hear more from the community in the future during the process.

Christian Association of Parent Educators (CAPE) has been a great asset during the legislative sessions and has dedicated a significant portion of their website to political action. CAPE will be updating the following webpage with results of the 2005 legislative session: www.cape-nm.org/pages/capeaction/legislation.php. Pat Fort has also been extremely helpful in communicating information of urgent priority. I am not aware of other Christian organizations providing similar services.

I used the term "King" because of the Biblical source for our three branches of government. The judicial branch originates from the selection of judges in the Old Testament. The legislative branch originates from the selection of representatives by Moses. The executive branch originates from the reign of kings. Our democratic-republic is unique in that it provides accountability between the three. Whereas, individually, the three types of government have historically failed miserably. We can call the "King" to accountability when he is out of order. The issue in question is one of sexual faithfulness before and in marriage. I cannot think of any Biblical reason why an official in the Governor's administration would prohibit a message of sexual abstinence to NM mid- and senior-high students.

In response to your statement: "The governor is a Catholic and is considered in good standing with his church," I offer the following information. The NM RTL organization has a different perspective. "The only one that considers him pro-life is he himself. The pro-life movement sure doesn't. He's in good standing with his church by virtue of having some kind of relationship with the archbishop, not because of his behavior. Dauneen has a composite of his anti pro-life voting that was compiled for his last election. He has never voted pro-life. Never." For details on Bill Richardson's voting record see www.rges.cc/news/richardson.htm. Is the sanctity of human life important enough to take the step from personal conviction to the ballot box or to legislative action?

I value your input and hope to continue our correspondence in the future. I hope and pray God will use NM YDDC and CYFD for His glory. I would like to hear of your testimony in these areas as God moves.

Editor, Principles Community Impact Ministry, The Foothills

=========================================================
Thank you for your hard work and dedication to the tasks you have taken on, on behalf of Foothills and all Christians. May God bless you richly.
Ron

=========================================================
Pastor Rob,
I just read the article at www.abqjournal.com/news/metro/341197metro04-21-05.htm. I was amazed that the Journal article wasn't overly biased against Christian morality. Regardless, more than anything else, I am impressed that you have courageously taken a public morality stand against that erotic painting on the Snob Hill sign! Such stands used to be regularly taken by American church pastors, but are tragically absent these days. I hope that other pastors in ABQ will take notice of you and stop their (weak) avoidance of even commenting on societal decadence because that might be perceived as negative and thereby be unconducive to (shallow) church growth. I am grateful to be a member of your church - a small church that continues to do big things.

Hopefully the arguments on this issue will remain framed as they are currently. The City responses/excuses, especially Plng & Zoning's are obviously pathetic. However, should the opposing side try to claim that this blatant eroticism it is merely benign "art," just like the classic paintings of nude women from the Baroque or Rococo period, then we who stand for pubic decency regarding this painting will be made to appear as narrow-minded prudes. I think this may be the challenge, to keep the argument from being so reframed. May God Continue to Bless You,
Vernon Hershberger
-
Petitions

Marriage Protection Amendment
Eliminate no-fault divorce
Stop National ID Database
Ten Commandments in Public Places
Prayer in Public Schools
Hoax - Dr James Dobson is not involved with any petition against the FCC for prohibiting Bible reading on the air.
-
Friends of the Family
is a group of key supporters who invest monthly in family ministry. Their commitment is key to the ongoing effectiveness of Focus on the Family and enables us to extend the ministry to many who cannot afford the resources and services they need. They also enable our radio programs, our efforts to defend family values, and our outreaches to special groups like teens, unwed mothers, and non-Christians. For more information, call 1-800-A-FAMILY.

Tsunami status and donations - www.christianaid.org/tsunami.asp.
More from Focus on the Family - www.family.org/tsunami/givenow.cfm.

You can send tax-deductible donations to Foothills Fellowship for direct support of the Principles Community Impact Ministry in NM.
-
---
RESOURCES
This section has been updated with a link to resource organizations. Anyone finding these organizations helpful, please consider mentioning the Principles Newsletter when contacting them. Thank you. Principles Newsletter Archives
Roster of NM Govt Officials

Resource Organizations




---
Principles Community Impact News (CINews) is edited by:
Mark Burton, Foothills Fellowship, 294-0016, Pager 971-2053
Many thanks to contributing authors and businesses.
Please forward events/articles/resources to principles@integrity.com.
Current distribution is about 1500 email addresses throughout NM.
If anyone you know would like to receive this newsletter directly
please have them send an email to principles@integrity.com.
It is also available on the web at www.rges.cc/news.htm and can
be accessed free of charge from any library internet service.
If you are reading this from outside NM, please locate and support
a Family Policy Council in your area.