6 Jun 05

Principles CINews

PRINCIPLE - the source or origin of anything; a general truth, a truth so broad and sweeping that many other truths can be considered offshoots of it
The Fourth of July was traditionally celebrated as America's birthday, but the idea of an annual day specifically celebrating the Flag is believed to have first originated in 1885. Flag Day - the anniversary of the Flag Resolution of 1777 - was officially established by the Proclamation of President Woodrow Wilson on May 30th, 1916. While Flag Day was celebrated in various communities for years after Wilson's proclamation, it was not until August 3rd, 1949, that President Truman signed an Act of Congress designating

June 14th of each year as National Flag Day. And our flag was still there ... in memory of 911.

Honor the Flag and the Virtues it Represents by Candi Cushman.
---
PRAYER -

I exhort therefore, that, first of all, supplications, prayers,
intercessions, and giving of thanks, be made for all men; for kings, and
for all that are in authority; that we may lead a quiet and peaceable life
in all godliness and honesty. For this is good and acceptable in the sight
of God our Saviour; Who will have all men to be saved, and to come unto
the knowledge of the truth. I Tim 2:1-4
Pastors' Prayer Groups in New Mexico.
Pray for Christians in the Workplace during Homo Pride Month at Sandia National Labs and opportunities to help people out of homosexuality (Local Free Indeed Ministries).
11 Prayer Points for NM from Glory of Zion.
Confirmation of judicial nominations and the judicial crisis in this nation.
Praise God for marriages that last a lifetime.
Pray for continuation of abstinence education in NM (Dept of Health recently announced the cancellation of abstinence education in grades 7-12).
Pray for support of Judeo-Christian principles in our communities.
Pray for US Supreme Court evaluation of Ten Commandments (due sometime around the end of summer 2005). Judge Moore recently visited Legacy Church in Abq, www.legacychurchnm.com. DVDs $8, CDs $4, tapes $3.
Wings Ministry to families of prisoners. Families and prisoners are at a receptive time of their lives and many are open to spiritual guidance.
Civil Govt Prayer Guide - pray for our leaders according to 1 Tim 2:1-4.
Presidential Prayer Team -
www.presidentialprayerteam.org
Presidential Prayer Kids - www.presidentialprayerkids.org
Prayer Warrior for America -
www.visionamerica.org/-support/prayer.htm
National Day of Prayer - year round dedication to prayer
America 21 Prayer Watch
---
ENCOUNTER -

And he called his ten servants, and delivered them ten pounds, and said unto them, Occupy till I come. Luk 19:13

Community Calendar

Jun 11 - Intervarsity Chile Dip Golf Classic at Desert Greens Golf Course, 710-4823
Jun 21 - Art Cordova speaking at Alameda Bible Church
Jun 25 - Roswell Prison Party, 1-4:00 pm, 291-6412
Jul 8 - Dr Terry Mortenson speaking at Foothills Church (Abq)
Jul 9 - Dr Terry Mortenson speaking at Forest Meadow Baptist Church (Tijeras)
Jul 10 - Dr Terry Mortenson speaking at Calvary Chapel (Rio Rancho)
Jul 16 - Springer Boys School Party, 1-4:00 pm, 291-6412
Jul 19 - Jerry Coryell speaking at Faith Bible Church
Jul 27 - Dr David Fouts from Bryan College - Foothills Church
Jul 29-30 - Scopes Trial Reenactment, Kimo Theater, 294-7876
Aug 23 - Worldviews class for high school students begins at Grace Baptist Chapel
Oct 3-7 - Rudiments Course in America's Christian History using the Principle Approach, The Pilgrim Institute with Mrs. Ruth Smith, location TBD, 323-8439

2005 Open Space Summer Series
Summer Recreation Activities
Cibola National Forest and Santa Fe National Forest Recreation
Trail Guide Service to aircraft wrecks in Sandia Mtns (6)

Trinity Southwest University Lecture Schedule
Special Lectures Friday Evenings 6pm - 9pm:
(Open to the public and offered at no cost.)
6/24/05 The Biblical Worldview Dr. Collins Library
7/8/05 Biblical Battles Prof. Sparks Library
7/15/05 Knowing the Fear of Yahweh: The Bible as True Narrative Dr. Briggs Library
7/22/05 Freedoms & Restrictions of Biblical Worship Dr. Dollahite Library
7/29/05 Parenting Teenagers Dr. Encinias Library
---
UNDERSTANDING

- And of the children of Issachar, which were men
that had understanding of the time, to know what Israel ought to do; the heads
of them were two hundred; and all their brethren were at their commandment.
I Chron 12:32
Contents:

Common Law Court in NM
Local Poetry by C.L. Cooper
Prison Ministry Volunteers Needed
Chile Dip Golf Classic - Intervarsity
Status on Abstinence Education in NM
New Book - Monkey Business
Worldviews Class for High School Students
Offensive Pride Alert
Offensive Commercial Alert
Conservative News Publication
Christian Heritage Series Offer by Author Nancy Rue
Readers Talk Back
Petitions
Friends of the Family including Tsunami Status
Resources
-
Common Law Court in NM

While the battle continues for judicial nominations, common law court is birthed in NM. Even on the news this week, O'Connor says she wants state rights for marijuana but obviously doesn't want state rights for abortion. So marijuana is more important than the lives of unborn babies! Read FRC Tony Perkin's "Why Judges are THE Issue" in the 7 Jun 05 Washington Update. What's common law court all about and why do we need it? Consider the following discussion by Bob Lester.

How are we being harmed by going along as if everything is fine? Let's say a man and woman have been married for 30 years having been childhood sweethearts. For all appearances the marriage was the most wonderful thing any two people could have imagined, a marriage based on all the best things like best of friends, excellent communication, finances, sexual relationship etc. These two had the perfect marriage so they thought. But let's say towards the end of that 30th year a deep, a "friend" shares a dark secret with the husband. [Could be reversed but for the purpose of illustration ...] At first he defends his wife and is extremely angry with and never speaks to this "friend" again. Then it comes up from another source and another until he confronts his lifelong comrade, spouse, and lover of some 30 plus years only to find she has been having an affair for 25 of those 30 years!!! Can he, will he, dare he, ever trust her again? He is utterly crushed and things will never, never be the same again. Although there are kids, he finally files for divorce as the law and God allow for infidelity. This is much the same story with our FEDERAL, STATE (federal STATES), IRS, as well as local city government ordinances which are not laws and therefore not enforceable. It's ALL A LIE just like the above fictional, but certainly possible, story.

Bullies have always gotten their way for a season. Through the various contracts we, or others for us, have signed, starting with the birth certificate (certificate of ownership by the FEDERAL CORPORATE STATE), our life's work has been pledged as security for the debts of THE UNITED STATES (corporate, fictional, DELAWARE based, for profit entity). This has been cleverly done through a fictional, fraudulent name called a straw man (see black's law dictionary sixth edition or earlier). In merry old England a usually destitute "strawman" would place straw in his/her shoe to indicate they were willing to be imprisoned in place of one declared guilty of a crime (usually well to do or at least more so than the strawman). The strawman reasoned at least they would have three squares and a roof over their head. Strawmen of old were aware of what was taking place unlike today's strawmen who do not have a clue of this fraudulent scheme. Through the use of a strawman, (now today, a fictional person) which is the only way a fictional entity, such as the IRS or STATE can deal with you, people are regularly relieved of their money. Of course this only works if they have or have been "volunteer(ed)" by the signing of contracts. Contracts such as social security, birth certificates, drivers licenses, marriage licenses, building permits, property taxes, federal, phone and gas taxes give away rights for a benefit or perceived benefit or privilege they already had such (all of which are illegal taxes). Our founding fathers would have been amazed at our collective stupidity and rebelled against England for far less.

So what are the benefits of sovereignty?
* Freedom from the multiplicity of lies and deceptions perpetrated on the American people since at least 1913 when the federal reserve act (banking act) was passed.
* Freedom from unjust illegal taxes.
* Freedom from confiscation of homes or cars for back "taxes" or so called "loans." These loans are based on a negotiable instrument called a promissory note which is nothing more than a promise to pay we sign at closing.
* Freedom of our pastors to speak out as God would see fit without fear of losing the tax exempt status through a so called 501(c)(3). Churches don't even need this status as they are already tax immune.
* Freedom from oppression from dishonest bankers and governments.
* Freedom from having to have husbands and wives working or working two jobs.
* Freedom to enjoy life as God intended it to be.
* Freedom to come or go where you please without being strip searched or detained.
* Freedom from fraudulent kangaroo courts where you have only the appearance of rights.

Based on the original 12th Amendment, titles of nobility are not permitted in commonlaw court. Once you are sovereign, lawyers, judges, police officers, etc. (titles of nobility) cannot go to common law court. Freedom is accomplished by canceling all the contracts by a form know as a cancellatura which is sent certified return receipt to the Sec of State of resident STATE, Sec of State of THE UNITED STATES, and Sec of the Treasury of THE UNITED STATES. Along with this document you send various serious remedies (unsigned forms you file in the unlikely event they respond negatively). After about 35 days after typically no response regarding the fraud as explained above, you default them, by notice, as a document.

If not rebutted, it is assumed in law and in fact to be true. Then a superior common law court (see below) rules that you have (or rarely have not) fulfilled the proper requirements. The 12 justices of the peace vote if your application for sovereignty should or should not be accepted. This court is "superior" in that it has more power than magistrate, metro, or district courts. From there you prepare an initenere which is the actual document that sets and declares your freedom. Based on all of these above documents and THEIR PROCEDURES the Sec of State (your STATE or district court will if she refuses) is REQUIRED to issue an "apostile" which is another name for a foreign notarized document declaring your sovereignty as you are now foreign to and no longer a citizen of THE UNITED STATES and as such you are indeed a foreign diplomat.

From there you have several options:
* Displaying sovereign plates (or not) which never expire,
* Registering your strawman, capital letters, fictional name and giving notice of the 100k and treble damages per offense of its use,
* Filing of UCC-1 (universal commercial code or internationally accepted business practices) that lists you as the owner/controlling party in first position, rather than the strawman, on things previously used fraudulently such as bank accounts, insurance contracts, properties, cars, birth certificates, etc. to take back the control of these items or just get rid of them.

You now also have the ability to work in or out of the old system. To work in the old system you sign your name all in caps as you and only you control the strawman name. Another practice commonly employed is filing UCC-3 papers to take back the actual ownership of your house and cars so you can then drive LEGALLY WITHOUT PLATES OR SO CALLED DRIVERS LICENSES (driver is a commercial, for hire, term and most of us are travelers as guaranteed by the constitution). All of the previously mentioned documents are useful in proving your new status to anyone who would dare challenge it and there are severe penalties for ignoring your new status as sovereign. A legal precedent in Florida has set the value on jail time as $65,000 PER HOUR. This is billable as a negotiable instrument to the offending entity which is usually ignored but then sold to international commercial banks (who pay about eight cents on the dollar). Refusal or inability by the entity to pay these liens lowers their bond rating. If they receive too many, their ability to issue bonds or borrow money dries up. Resistance is NOT futile!!!

Bob Lester, One American

To hear the debate, you'd have to attend our weekly meetings. A considerable amount of study needs to be done to learn the definitions and harms. You'd also have to pick an area of interest: debts, right to travel, etc. or decide what you are trying to accomplish.

For many of us seeing the result of Patriot I & II and the possible loss of freedom as a result of National (Real) ID card, we realize that being a U.S. Citizen is like painting a big target on your back for all of the various government agencies to start shooting missiles. Most of us in this group just want to go peacefully about our business without being accosted, detained or imprisoned. Unfortunately, provisions of the Patriot Act has designated every Citizen as a "terrorist" and subject to unlawful searches, seizure of property and loss of liberty.

We've drawn our personal line in the sand and the possible harms outweigh what we know is the right thing to do which is to resist tyranny. We have lawful standing in what we do but our greatest of commitment is getting past the ignorance of compartmentalized government agents who are rarely trained in commercial law and don't realize the commercial liability they are being exposed to when bulldozing over people with our status as non-citizens.

This is a process you have to study and decide for yourself if you want to make a reality for yourself. Many citizens I talk to say they will never take a national ID card but they don't realize that they don't have a choice. To make any purchases they will have to swipe their cards at the checkout and if the government decides you've had your quota for the week, your card will be turned off. This card makes it much easier for hackers to steal personal data.

So, you have to ask yourself "Where is my personal line in the sand?" Do you need to be arrested or have your house sold out from under your to draw that line? I know it's a hard question to answer if you're not under attack at the moment.

Mark, webmaster, www.newmexicocommonlawvenue.org

[Disclaimer: Principles Community Impact Ministry neither supports nor opposes NM Common Law Court. This article is intended to make you aware of developments in your local area and to stimulate thought on this issue. We encourage readers comments.]
-
Local Poetry by C.L. Cooper

Summer's Fade

Wake up! Wake up!
Oh, Joy! Oh, Sun!
The flowers have opened!
The day has begun!

Wake up, my love,
embrace the day!
Give pause to your slumber.
Time's running away!

Sweet prince, wake up!
T'is morning, Sir.
The cat mews with hunger.
The birds are astir.

Wake up! Wake up!
Dearest, do rise.
I bring you dawn's kisses
and love's soft reprise.

Albuquerque Poetry Contest - Deadline: Jun 17
Up to 20 students and 40 adults will have their poems displayed on Rapid Ride interior panels for three-week intervals from August 2005 to March 2006. Winning poets will receive prizes, a book of winning entries and a poster of their poem as displayed on the Rapid Ride vehicle. Information and applications are available online at www.nhccnm.org or by calling ABQ RIDE at 724-3146. Poems can be emailed to drankin@cabq.gov or mailed to the City of Albuquerque, Marketing Division, 100 First Street SW, Albuquerque, NM 87102.
-
Prison Ministry Volunteers Needed

There are two Wings Parties coming up and I need to know if you want to volunteer to be on one or both Wings Teams. The Roswell Prison Party is Sat, June 25, from 1-4:00 pm. The Springer Boys School Party is Sat, July 16 from 1-4:00 pm.

If you want to be on one of both teams, I need to know which party and the following:

Full Name (As on your driver's license)
Address, City, Zip
Phone
Birthday
Social Security
Email address

Please get this to me ASAP. If your name is on the list and something comes up and you can't make it, there is no problem. If you don't sign up but later find out you would like to be on the team, it may be too late. All volunteer names are checked by security so they need our names as soon as possible.

THANKS so much!

I am meeting with prison/jail and church leaders in New Hampshire, Massachusetts, and Ohio. Please pray for these meetings.

In His love,
Ann Edenfield
Wings Ministry Executive Director/Founder
291-6412 office, 379-9840 cell
AnnEdenfield@WingsMinistry.org
www.WingsMinistry.org
-
Chile Dip Golf Classic - Intervarsity & American Indian Christian Fellowship
Sat, Jun 11. Shotgun starts 8am at Desert Greens Golf Course, 10035 Country Club Ln NW Abq. Four person scramble, longest drive, closest to pin, longest putt, mulligans, and other contests and prizes. Proceeds will be used to advance the work of Intervarsity among Native American students and to support the staff members who serve in the Rio Grande Area (NM and El Paso). Call for openings or come out to enjoy the fellowship/game. Donations are tax deductible. 710-4823

IVCF is a multi-ethnic, inter-denominational ministry that works actively on college and university campuses to establish and advance witnessing communities of college students who are dedicated followers of the Lord Jesus Christ and who are growing in their love for God, God's Word, God's people of every ethnicity and culture, and God's purposes in the world.
-
Status on Abstinence Education in NM

In recent issues, we have urged readers to contact your US Rep and US Senators regarding the NM DOH decision to remove abstinence education from grades 7-12 and teach it only in grades K-6. This violates federal law regarding Title V funding rules. Focus on the Family and NM AEC both urge you take action.

Abstinence-Ed Advocates Say Criticism Unjustified, Abq Journal, Apr 1
Abstinence-Only Education Funds Threatened, Citizenlink, Feb 24
www.family.org/cforum/fosi/abstinence/education/, FOF Action Alert

The Public Broadcasting System (PBS), periodically under fire for airing heavily one-sided liberal broadcasting, is at it again with a new movie that was funded by U.S. taxpayers and by pornographic media giant Playboy, and is being promoted by abortion advocates NARAL. The movie, "The Education of Shelby Knox," apparently attacks both President George W. Bush and abstinence programs. Texas public schools have had abstinence- only sex education since 1995, when then-governor George W. Bush signed a law making Texas the third state to follow the curriculum. When it comes to cigarettes, alcohol or other more destructive drugs we ask our children to abstain in an effort to save their lives - why is it so hard to ask children to do the same abstaining when it comes to sex?

Apparently the producers at PBS would rather promote what they see as the "stupidity and futility" of such abstinence-only programs, while ignoring the studies that have shown true success through these abstinence programs. The heroine of the piece, Shelby Knox, starts out as a conservative Southern Baptist but "grows" throughout the movie until she finally shocks her family by declaring herself a "liberal democrat." These "evolving values" explain why NARAL was given an advance screening last week. PBS, using taxpayer monies combined with grants from Playboy and support from NARAL, exposes their true agenda with shows like this- and it has nothing to do with protecting children.

Additional Resources
Abstinence Until Marriage: The Best Message for Teens
-
New Book - Monkey Business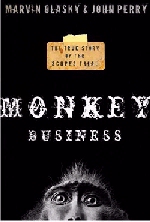 New book release - May 2005. The Scopes Monkey Trial in Dayton, Tennessee was a watershed moment in the history of this country. The ramifications of those proceedings are still being felt today. However, it is not necessarily the arguments from the courtroom floor that are reverberating in the halls of America today. The way the entire event was conducted and perceived by the rest of the nation set the tone for how creationists and evolutionists have been viewed by society ever since. Marvin Olasky and John Perry tell the true story in Monkey Business. Most people have a misunderstanding of what happened based on slanted newspaper reporting accounts of H. L. Menken, who made fun of creationists. As a result, the case for creationism has been crippled in the eyes of society. But this account of what happened is far from accurate. Monkey Business will offer the facts of the story and an apologetic for divine creation. Amazon offers a 34% discount.

The Scopes Trial Reenactment comes to Abq on 29-30 Jul. Get your tickets now for this once in a lifetime event.
-
Worldviews Class for High School Students

Most teens lack basic Bible knowledge reports Ken Camp (ABP) in his article dated 26 Apr 2005. How do we prepare teens for the onslaught of secular ideology in the workplace, education, and even liberal churches?

Josh McDowell says: "Over the past few months, I've meet with parents across the country and the recurring question is... 'Josh - How will I know that my child's faith will remain strong once they leave home?' As your children develop emotionally and spiritually, equip them with the tools to help them stand strong in the face of today's culture."

Rio Grande Enrichment Studies is offering a course beginning Aug 23 for high school students based on David Noebel's book Understanding the Times (abridged) and workbook. The RGES worldviews class will meet on Tuesdays from 10-12 at Grace Baptist Chapel and offers a stimulating combination of Scripture, history, media, and dialog. The curriculum focuses on various worldviews (Biblical, secular humanist, Marxist/Leninist, new age, and postmodern) and includes field trips, a guest speaker, and personal worldview survey.

The nearest locations for similar courses are:
* Providence Foundation (VA), www.providencefoundation.com
* Summit Ministries (CO), www.summit.org
* Worldview Academy (TX), www.worldview.org (offered at various universities)
-
Offensive Pride Alert

From today's edition (May 31) of the "Sandia Daily News," an internal newsletter:

June is Homo Pride Month, and everyone is invited to participate in this year's activities for Homo Pride 2005. Lesbian, homo, bisexual and transgender Americans make important and lasting contributions to our nation in every field of endeavor. Since the Stonewall uprising in New York City, the homo rights movement has united homos, bisexuals, transgender and lesbians, their families, co-workers and friends, and all those committed to justice and equality in a crusade to outlaw discriminatory laws and practices. For more information, visit Sandia's website.

Eric and Chris Tomlin

["Homo" was substituted for "gay" in the above article in an attempt to redeem the word perverted by sodomy. Homosexuality has serious consequences - physical, mental, and emotional. It is not "gay." The local ministry Free Indeed offers help to people addicted to homosexuality. Unfortunately, our tax dollars help support this perversion celebrated at Sandia National Labs. There is no "pride" in sodomy.]
-
Offensive Commercial Alert

I understand that the WB and FOX channels will begin accepting advertisements from condom companies in the near future. I don't know whether it matters to you or not, but I suspect that there will be many more homes than just mine that will block FOX and WB from their TV reception when that happens. I have children who spend time in my home that need not be exposed to such detail. I, as an adult, am not at all interested in having that material in my home, unbidden. I know you need all the advertising that you can get, but be assured that your network will no longer be welcomed in our home once condoms are a part of your team. The commercials are becoming more and more offensive, this is way over the top!!
Sincerely,
Pam Wolfe, Box 15129, Las Cruces, NM 88004
-
Conservative News Publication

I've been in touch with Mark Ortega about the possibility of starting a conservative news publication. We would like to hold an information meeting for those interested in coming aboard and writing for us. Anyone interested, please respond to carlmichaelcarlson@comcast.net.
Michael Carlson
-
Christian Heritage Series Offer by the Author

Out of print but FREE for a limited time from Nancy Rue to readers of Principles Community Impact News.

----- Original Message -----
From: Nnrue@aol.com
To: principles@integrity.com
Sent: Monday, May 02, 2005 9:20 AM
Subject: Re: Christian Heritage Series

I do have more CHS books in my possession now since they sent me the leftovers. Let me know if you need some -- or send people with requests my way via email. Thanks as always for your continued interest. I will keep you posted.

Nancy Rue
-
Readers Talk Back

I just wanted to drop in and say that we have really enjoyed your newsletters. I have made copies to give to our prayer partners when they come in to pray. They not only pray for the needs of our station and its employees, but the needs that you include in your newsletter. Thank you for your hard work and ministry to the Body of Christ.

Blessings,
Cindy Mansfield, GM
Trinity Broadcasting Network
KNAT TV-23 / KNAT DT-24

Another goodie to the presses, Mark. I've forwarded the newsletter on to a number on my email list and hope they will have the good sense to sign up to receive it themselves. So glad to read that the program hacked by KNME is being picked up by KOB. Hadn't heard that any place but in your newsletter. Thanks so much for all you do.

Betty
-
Petitions

Marriage Protection Amendment
Eliminate no-fault divorce
Stop National ID Database
Ten Commandments in Public Places
Prayer in Public Schools
Hoax - Dr James Dobson is not involved with any petition against the FCC for prohibiting Bible reading on the air.
-
Friends of the Family
is a group of key supporters who invest monthly in family ministry. Their commitment is key to the ongoing effectiveness of Focus on the Family and enables us to extend the ministry to many who cannot afford the resources and services they need. They also enable our radio programs, our efforts to defend family values, and our outreaches to special groups like teens, unwed mothers, and non-Christians. For more information, call 1-800-A-FAMILY.

Tsunami status and donations - www.christianaid.org/tsunami.asp.
More from Focus on the Family - www.family.org/tsunami/givenow.cfm.

You can send tax-deductible donations to Foothills Fellowship for direct support of the Principles Community Impact Ministry in NM.
-
---
RESOURCES


This section has been updated with a link to resource organizations. Anyone finding these organizations helpful, please consider mentioning the Principles Newsletter when contacting them. Thank you.

Principles Newsletter Archives
Roster of NM Govt Officials

Resource Organizations
---

Principles Community Impact News (CINews) is edited by:
Mark Burton,

Foothills Fellowship, 294-0016, Pager 971-2053
Many thanks to contributing authors and businesses.
Please forward events/articles/resources to principles@integrity.com.
Current distribution is about 1500 email addresses throughout NM.
If anyone you know would like to receive this newsletter directly
please have them send an email to principles@integrity.com.
It is also available on the web at www.rges.cc/news.htm and can
be accessed free of charge from any library internet service.
If you are reading this from outside NM, please locate and support
a Family Policy Council in your area.