Thanksgiving to God Amidst Trials and Hardship
We all know the story, but it bears retelling as there are those who claim our Christian Heritage is a myth. Over 100 people boarded the Mayflower in Sep 1620. After more than two months at sea, during which the passengers faced many hardships, the Mayflower finally reached the shores of North America. Before the settlers went ashore, the Mayflower Compact reflected their reliance on God and established Christian Principles for their civil government. "Having undertaken, for the glory of God and advancement of the Christian faith …." Half survived their first harsh winter yet decided to remain at Plymouth when the ship returned to England in Apr 1621.
God's providence through the blessings of Samoset and Squanto allowed the Pilgrims to plant a successful crop and catch much fish and game over the summer. Chief Massasoit and Gov Carver signed a peace treaty that was faithfully kept until Massasoit's death in 1662. Gov Bradford called for a three-day feast in the fall of 1621 that we remember as the first Thanksgiving. About 90 Indians joined the Pilgrims as they celebrated, feasted, heard the Bible read publicly, and gave thanks to God for His many blessings. In 1863, President Lincoln proclaimed the last Thur in Nov as "a day of thanksgiving and praise to our beneficent Father." Thanksgiving has always been a proclamation of thanks to God for His blessings. Thanksgiving meals for the needy and homeless: Abq Family Services, Joy Junction, Abq Rescue Mission, Noon Day Ministries, Calvary Food Pantry, Neighborhood Networks.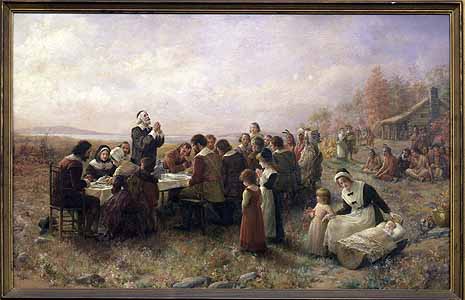 Does Worldview Matter?
The Democratic Party of NM State Central Committee adopted a statement in 2009 (which is to be considered for the Democratic Party of NM platform in 2010) that the Democratic Party of NM , "including its members and officers, should actively support and advocate on behalf of Marriage Equality and Equal Rights for all regardless of sexual orientation, ..."
Members of Congress hijacked a bill authorizing funding for America's military to advance the social agenda of advocates for homosexuality. A cornerstone of this social agenda is to add "sexual orientation" and "gender identity" to the classes of persons traditionally protected in civil rights and anti-discrimination laws. Signed by President Obama, the new funding law [National Defense Authorization Bill] creates a special class of federal crime for violence committed "because of the actual or perceived religion, national origin, gender, sexual orientation, gender identity, or disability of any person." Of course, we can all agree that violent crime against anyone is despicable and should be punished to the fullest extent of the law. However, this so-called "hate crimes" law treats victims of the same crime unequally, based solely on the government's assessment of the wrongdoer's thoughts at the time of the crime. Additionally, "hate crimes" laws have been used in other countries to silence pastors who preach biblical truth about homosexuality. This new law says that it is not to be used to infringe any First Amendment rights, so, while this remains a serious concern, we will have to wait and see how it is applied. AZ Policy Council, Oct 30 As some news outlets have pointed out, it is possible that pedophilia could even be construed as a "sexual orientation," and therefore be given special protection by our federal government. Without an absolute standard of morality, "every man did that which was right in his own eyes. (Jud 21:25)"
HPV Vaccine Update
During October 2009, the FDA approved the use of the bivalent HPV vaccine Cervarix in females aged 10 to 25 years and the quadrivalent HPV vaccine Gardasil in males aged 9 to 26 years. The ACIP recommended that Cervarix be included on the list of HPV vaccines recommended for routine use in girls and young women, and that Gardasil be permitted, but not recommended routinely, for males aged 9 to 26 years. Finally, while the Medical Institute supports the continued development and widespread use of vaccines against HPV and other STIs, we promote risk avoidance as the best strategy to prevent sexually transmitted infections and their consequences. Sexual abstinence outside of a lifelong, faithful relationship is the optimal approach for maintaining the highest level of physical and emotional health. Medical Institute for Sexual Health, Oct 2009


Medically they do not oppose the development and use of this tool to fight STDs (although from previous statements they are not favorable to mandatory vaccination [i.e., state mandated]). Their primary focus as an organization is promoting risk avoidance (abstinence). Vaccination is a means of risk reduction which is a less desirable strategy to fight STD infection, and vaccination can never prevent the emotional consequences of sexual activity. They also understand, and emphasize, that even though one may be vaccinated against the 4 most common strains of the HPV virus and even Hepatitis B, this will not protect the individual against the other 40-50 HPV viral strains nor against chlamydia, syphilis, gonorrhea, etc. The debate to raise risk avoidance to the top tier still rages. NM AEC
Senate Health Care Bill Contains Abstinence Education Reauthorization
Washington, DC (Nov 18, 2009) - Abstinence education funding is partially restored within the Senate Health Care Bill, a result of the Reid reconciliation of versions offered by the Senate HELP and Finance committees.
NM Special Session Ended Oct 23
The homosexual marriage bill was not introduced during the 2009 Special Session but will likely be on the docket in Jan 2010. Special Session bills that passed both houses.
$2B CAP Tax in Albuquerque
A revised Climate Action Plan (CAP) was presented to the Abq City Council on Nov 16 (EC-09-596). There are mixed reports of what actually occurred at the meeting. Proponents of the CAP Tax said it was "unanimously approved" and to thank City Council for "adopting the report." Actually, the CAP was only "received" and "acknowledged" for further deliberation by the City Council. The new mayor will likely have a different perspective, so expect an effort to get the CAP Tax in the budget before Dec 1. http://cabq.legistar.com/legislation.aspx (search on EC-09-596)
Community comments were supposed to have been incorporated and posted at www.cabq.gov/cap but the CAP was instead presented to City Council with only a six hour notice by email. The original CAP included name calling of those who did not believe in the religion of global warming – they were called "laggards." A picture replaced this section on forcing social change. The budget section was unchanged - $2B for the residents of Abq – averaging $4K for every man, woman, and child. The impact section was unchanged – NM will experience "increased precipitation" (MORE RAIN) if we do nothing!
Watch this BBC Documentary for "the rest of the story" on "climate change: http://www.garagetv.be/video-galerij/blancostemrecht/The_Great_Global_Warming_Swindle_Documentary_Film.aspx
If you don't live in Albuquerque, your city may see a similar tax in the near future. Check the list of Mayors supporting the eradication of green house gasses. http://usmayors.org/climateprotection/cities.asp?state=NM
American Heritage Research in Albuquerque
American Heritage Research is dedicated to restoring the truth of America's Founding Principles within our education curriculum. We are convinced that nations are blessed only as they follow God's plan for freedom. The words from Leviticus, carved into the Liberty Bell, speak our desire to "Proclaim Liberty throughout the land and to all the inhabitants thereof . . . ." www.americanheritageresearch.com
SW Ecumenical Conference at Legacy Church
First of its kind – SW Ecumenical Conference, Celebrate Life, Family, & Marriage was held at Legacy Church on Oct 24. Co-sponsored by Project Defending Life, Legacy Church, Catholic Coalition of NM, and Center for NM Policy. Pro-life and pro-family speakers – Joe & Ann Scheidler, Scott Lively, Anthony Levatino, Terry Brennan, Bill Redmond, Steve Smothermon, Stephen Imbarrato, Dave Standridge, Dauneen Dolce, Tim Hale, Stephanie Block, Mike Naranjo, and Martha Beasley. Scott Lively's presentation was particularly interesting regarding Biblical principles for restoring a neighborhood in Springfield MA. http://www.defendthefamily.com/
Vision for NM – Traditional Values Action Committee and Voices for Family Values are seeking association with Focus on the Family. Your help is needed to reach a minimum budget and operational capability required for association and establishing a Family Policy Council in NM. A great model of what NM can do is the AZ Policy Council. The Baptist Convention NM recently passed a resolution (#4) commending the work of TVAC and VFV and encouraging support in 2010. God could do everything Himself. But, for whatever reason, He chooses to work through people. He had Noah build a boat. He had Moses go before Pharaoh. He had the Babylonians capture Jerusalem and then used Daniel for His glory. He had Mary deliver a Baby. He is raising up men and women in NM who will stand for the truth of His Word. Please consider making an end-of-year contribution to TVAC or VFV.
NM Patriots
The Making of America Seminar was held on Nov 7, sponsored by NM Patriots. Topics were: Developing America's Success Formula and The Perfect Plan for Liberty. The NM Patriot Alliance is a coalition of concerned Americans from many groups who are working together to save America. They firmly believe in the U.S. Constitution, the Bill of Rights, limited federal government, and the right of the people to question, challenge, and change our government and its policies. www.nmpatriots.us
Christian Heritage Speech Competition and Christian Heritage Week
Results of the 19th annual Christian Heritage Speech Competition and the Christian Heritage Week Proclamation are posted at http://chsc.nmsciencefoundation.org. There were four winners in each of nine categories out of over 100 participants. Miss NM was the MC and nine students gave their first place speech at the awards ceremony. Recorded speeches are available upon request. If your church would like to participate in the 20th Annual Christian Heritage Week in Nov 2010, please email principles@integrity.com.
Shepherd's Guide Begins 7th Year in Albuquerque
The Shepherd's Guide strives to connect Christians with local Christian businesses. Each directory contains specific listings from your city and the surrounding area. So, whether you're trying to find a new church, a Christian school for the kids, or a trustworthy mechanic, The Shepherd's Guide has what you're looking for. www.shepherdsguide.com, albuquerque@shepherdsguide.com, 363-6277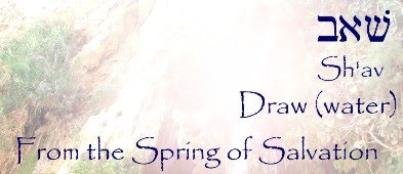 Isa 12:3 Therefore with joy shall ye draw water out of the wells of salvation.
Sh'av means draw from. We say "draw from the well of salvation." Check us out at www.isaiah123.org!
Community Events
Sixth Annual Walk-Through Nativity Display, Sun, Dec 6, 3-6p
In the Sandia Presbyterian Church Family Life Center
10704 Paseo del Norte Drive, NE (Eubank & Paseo del Norte)
Start your Christmas season by viewing an assortment of activities from around the world.
Mary's Christmas Story, 7p, Dec 4, 11, & 18
Bible Alive Theater, 1616 Old Pecos Trail in Santa Fe NM
Myra Green, piano accompaniment by Randy Egan and Gail Salazar
From the New Testament Gospels of our Bible. The birth & life of the Savior Jesus Christ as seen through the eyes of his mother. See the humble heart of this servant of God as she encounters the angel Gabriel, who reveals God's plan for the redemption of the world. Hear her heart as the tiny unborn baby John leaps for joy in his mother's womb at Mary's visit to Elizabeth. Journey with Mary to the stable in Bethlehem where our Lord Jesus is born. Experience the excitement of the shepherds, the worship of the magi, and the fear in a mother's heart as they flee into Egypt to escape a wicked king. Mary recalls the anguish of the cross and the joy of the resurrection as she invites all to believe in Jesus the Christ!
Abq Luminaria Tour, Dec 24
Take a magical ride with the City of Albuquerque and ABQ RIDE on the Luminaria Tour. Enjoy this annual New Mexican tradition without worrying about parking, driving through snow, annoying traffic delays, or wasting gas. Instead, let ABQ RIDE tour you through a twinkling wonderland in Old Town, the festively adorned Albuquerque Country Club, and other hot spots decked out for the holiday. $7, tickets required. http://www.cabq.gov/transit/special-events/luminaria-tour
Christmas Musical

Sandia Baptist

9429 Constitution NE

Dec 11 (7p), 12 (2p), 13 (5p)

Eastern Hills Baptist

3100 Morris NE

Dec 18 (7p), 19 (7p), 20 (7p)

Northdale Baptist

123 Osuna NW

Dec 20 (11a & 2p)

Faith Hill Video